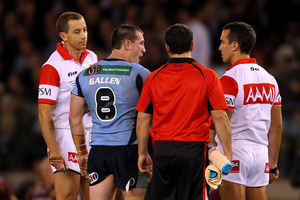 Why is it so hard for people to say "I'm wrong"?
We encourage our children to identify their mistakes, admit them and then try to provide an alternative to improve decision-making in the future.
Referees are continually shown examples of incorrect calls made during matches but rarely do they acknowledge any wrongdoing.
Referees are hidden away from questioning and are only subject matter to their masters, who in turn say nothing of such internal reviews publicly other than a retention in, or demotion from, their respective grades. Externally, the heads of these panels invariably support their referee, which is commendable - but when decisions on the field are wrong, just admit fault and learn from it. To stand by them stoically when, at times, it is clear they are wrong, provokes thoughts of circling the wagons to protect all within that circle, guilty or not.
Players and coaches are subject to scrutiny from all and sundry after games; they are paraded to the media for post-match interviews - no exceptions. The media ask the questions publicly for everyone to assess and dissect. "Why did things go wrong?" Where did things go wrong?" "How will you look to correct things for next time?"
These are the types of questions referees should answer. When players ask referees on the field what the penalty was for, they are given an answer. When the player wants to question it further, they are told to go away as the decision has been made. This procedure I have no concerns with as there is no time for committee meetings.
But after games it is only fair that questions be asked and answers explained in more detail to the public, via journalists at the media conference. Referees do not have to be briefed by their superiors for a unified explanation; they would be treated just like players and coaches. Coach and captain combinations like Stephen Kearney and Nathan Hindmarsh are routinely asked to front the media on a weekly basis to explain themselves. They are under pressure. Why can't referees do the same?
When referee performances are controversial, as they were on Wednesday night in State Of Origin, when a decision was made to award a try, then we would like to know what the (video) referee was thinking in making such a decision. The technology was introduced to assist officials to make a more informed decision but unfortunately they (referees) decided to expand on rules to include the word 'interpretation'.
Hence the reason for a number of questionable judgements - and now confusion can occur. Just like in rugby union - when it is difficult to know why a penalty is given - rugby league is venturing into the same dynamic and we are quickly losing the simplicity of our game. Previous black and white decisions have now turned grey and have lead to inconsistency. To further confuse the public there are different interpretations when it comes to 'Origin' football; rules are relaxed and for what purpose?
Referees have hard enough jobs as it is but they are making it harder on themselves by interpretations they introduce which have lead to such confusion. Please come forward and explain yourselves to try and clear up why some decisions are made.