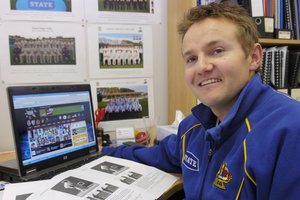 New Zealand Cricket need to secure Mike Hesson's coaching and management services while they are available - be it as head coach, general manager or as part of a wider team.
NZC cannot repeat July's mistake when the former Otago mentor left on his ill-fated trip to coach Kenya, frustrated at the inaction in appointing a national selection manager (the job filled by Kim Littlejohn) and a New Zealand team manager (now Mike Sandle).
NZC should model the system on the set-up of the world's two best international coaches - South Africa's Gary Kirsten and England's Andy Flower. Let Hesson run the team with lieutenants to monitor bowling, batting, fielding, mental and physical fitness. Sure, other candidates such as South African mental conditioning coach Paddy Upton, Northern Districts coach Grant Bradburn and Wellington and former Bangladesh coach Jamie Siddons have merit.
Few men have as much respect around the cricketing community among players, coaching staff and media as Hesson. The 37-year-old's only hindrance is the public profile he lacks, by virtue of his own selflessness.
He puts his players first, meaning he often works in the shadows to ensure his teams are in sync. Yet if ever New Zealand Cricket needed a Larry Mullen jnr (U2's little-known drummer) more than a Bono to keep the beat going in the background, it is now.
New chief executive David White has been left with a regime he did not commission and the Australianisation of the management ranks, led by cricket director John Buchanan, means a local presence in addition to Sandle would be welcome. Surely New Zealand needs to prove it can produce its own mentors, coaches and leaders rather than holding an overseas hand. In franchise sport, it is fine to pick the best coach from anywhere; in international sport, good reason is required not to pick from within; otherwise what is the point of domestic coaches being ambitious?
At present no conclusions have been drawn on candidates. NZC is still working out the terms of reference for the position and what skills will be required before going to market.
Hesson detractors will point to his lack of international experience. The former opening batsman was a three-time 12th man for Otago, ranked behind the likes of Matt Horne and Mark Richardson in an eight-year career with the wider squad. Since the advent of New Zealand coaches in the mid-1980s with Glenn Turner, only two - Denis Aberhart (first-class Canterbury, Central Districts) and Andy Moles (Griqualand West, Warwickshire) - have not played at international level. Yet some of New Zealand's best coaches, such as Sir Graham Henry, Graham Lowe, Arch Jelley and Duncan Laing, were never international representatives. Hesson can't be ruled out on that front.
Nor can his record with Otago be ignored, traditionally a province that has struggled for talent and playing numbers.
Hesson spent 15 years perfecting his trade in that set-up under the likes of Turner before being elevated to Otago coach in 2005-06.
He rejuvenated a side long considered also-rans by taking them to their first title in 20 years - the State Shield in 2007-08 - and backed it up with the Twenty20 championship a year later.
He has coached New Zealand A on a number of tours, and helped mentor the likes of Nathan McCullum, Craig Cumming, Gareth Hopkins, Neil Broom and Aaron Redmond into national ranks.
Hesson is also a respected confidant of Brendon McCullum. His appointment could bring out the best in the 30-year-old wicketkeeper-batsman in his final years.
Hesson's recruitment and selection skills also brought South African-born fast bowler Neil Wagner and 2011 England cricketer of the year Jonathan Trott to the province.