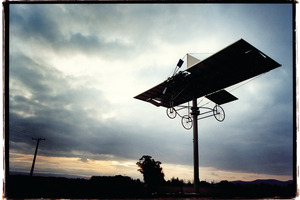 In South Canterbury, on the Main Waitohi Rd, there is a small monument marking the achievements of farmer, inventor, and aviator Richard Pearse. Who wouldn't like to believe that he achieved manned, controlled heavier than-air (MCHTA) flight before the Americans Wilbur and Orville Wright did so in 1903? For a long time people did believe it.
It says a lot about the New Zealand character and attitude to achievement that this plaque records not where he built his plane, nor the site from which he launched his flight, nor the point at which he came closest to the sun and glory, but the spot where "most evidence indicates he ended by crashing".
Although many people believed for a long time that Pearse achieved MCHTA flight first, no one has been able to prove it. There's a good reason for that. Although Pearse tried ingeniously and valiantly, he didn't.
The Timaru Post got the scoop from the man himself 100 years ago. "I did not attempt anything practical with the idea," Pearse told the paper, "until, in 1904, the St Louis Exposition authorities offered a prize ...
to the man who invented and flew a flying machine over a specified course. I did not, as you know, succeed in winning the prize."
Pearse also made this clear in letters.
Among the loudest claimants for Pearse's success were his sisters and neighbours. Is there any worse proponent of a dubious claim than a sister? Sisters have an endearing tendency to be loyal against all odds. And neighbours aren't above wanting to bask in a little reflected glory.
"He was very quiet and kept to himself a lot. You could have knocked me down with a feather when I saw him flying over me."
Last week's resurrection of the Timaru Post story elicited a variety of distraught reactions from diehard wanna-believers. But that Pearse admitted he was not first to MCHTA has been on the readily available record for some time. It is stated on the authoritative nzhistory.net website, for instance.
We persist in clinging to the possibility of what he "might have" done. As a result we fail to do justice to what he did do. As newspaperman Maxwell Scott says in The Man Who Shot Liberty Valance: "When the legend becomes fact, print the legend."
We have enough genuine heroes in all sorts of fields - from Colin Murdoch to Ray Avery, William Hamilton to Janet Frame, Ed Hillary to Peter Blake - that we don't need to build up false ones.
He is still a hero, just not the hero he would be if he had gone first. We just need to be clear about what he really did. Pearse built and flew a plane. For a lone farmer, tinkering away in a shed in an isolated part of the world to have built a machine capable of heavier-than-air flight deserves enormous respect. That he wasn't the first to do so is disappointing. But it's better to be disappointed than deluded. You can overcome disappointment, but you get trapped in delusion.
Plain packaging no deterrent say companies
The tobacco companies are in the position of many of their customers - undergoing a long, slow, painful death and willing to try anything to prolong the agony and postpone the inevitable. This week, however, they appear to have agreed to co-operate with their treatment regime.
If they believe, as they say, that the planned introduction of plain packaging will do nothing to reduce cigarette sales, then they obviously will have no objection to the measure.