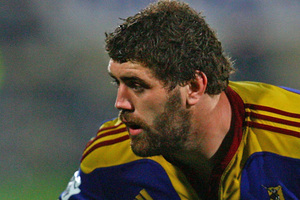 A reasonably clear picture is forming about the potential make-up of the All Black front row.
Assuming everyone is fit, the four props will presumably be Owen and Ben Franks, Wyatt Crockett and Tony Woodcock. The three Crusaders boys have been strong and consistent and I suspect have still got more to come.
Coach Todd Blackadder has rotated them and that has worked well - with Woodcock injured, you'd have to say they are the three top props in the country.
There are others who have caught the eye at times without delivering the sort of consistent, aggressive form they need to convince me and, more importantly, the All Black selectors that they should play against Ireland in the June tests.
Charlie Faumuina has been tainted by the general malaise at the Blues and I feel he hasn't played anywhere near as well in 2012 as he did in 2011.
He's got potential but he needs to deliver more.
Ben Tameifuna at the Chiefs is by all accounts a good kid.
Don't get me wrong, he's been impressive - coming in as a 20-year-old tighthead is not easy. But from what I saw of him in the encounter against the Cheetahs, I thought he was struggling at altitude.
He probably needs to drop some weight, get himself fitter, get a better handle on his nutrition, training and basic preparation and then we'll see a different player I suspect.
Jamie Mackintosh has been consistent and the arrival of Andrew Hore at the Highlanders has certainly helped give their front row an edge.
But I can't help but wonder whether Jamie has the necessary 'nailiness' required at this level. When you look at someone like Sona Taumalolo, you can see that he wants to get stuck into everyone: that he's eager, aggressive and willing to put himself about. If Jamie had that same attitude, I think he would be devastating.
The thing is, though, some guys have that ability and some don't. I remember saying once that I felt Owen Franks would burn himself out if he continued the way he was going.
He says he used to listen to heavy metal in the changing sheds before the game to get pumped up. These days, he's learned to chill out a bit more - be a bit less intense until he crosses the white line.
Jamie needs a bit more mental intensity and edge to his game and maybe having Hore there will help that side grow.
Talking of Hore, I'd say that he'd have to be involved with the All Blacks. The shift South has brought the best out of him.
If the All Blacks had to play a game next weekend, I'd be tempted to pick Hika Elliot as the second hooker. He's played pretty well sharing game-time with Mo Schwalger.
I'd probably have him ahead of Corey Flynn - we all know about his throwing-in issues. I suspect that if Keven Mealamu can get fit, he'll be named in the squad, as it seems the selectors will rely on the men they know and trust for the June tests.