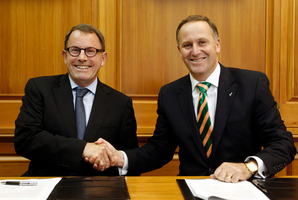 The curse of being a man of principle must be having to decide which of your dearly held principles comes top of the pecking order when one comes up against another.
A case in point is Act Party leader John Banks. He now has to decide between his long-held antipathy to the evils of gambling, and the pre-election pact struck over the teacups with National leader John Key to ensure his election to Parliament on the back of National supporters' votes.
Complicating the issue is also the "principle" - to use a book-keepers' term - of $15,000 that SkyCity Casino gave to his and rival Len Brown's mayoral campaigns in 2010.
In return for Act's support for the Key Government, Mr Banks also got Government backing for Act's harebrained charter school experiment, now about to be inflicted on deprived children in South Auckland and Christchurch and - if reports from the Act Party conference are true - unsuspecting young victims in Palmerston North and elsewhere.
From the Act conference come signs that the teacup deal "principle" has won the tussle.
TV's 3 News reports that Mr Banks declared: "The best interests of the country are important ... In respect of an international casino for Auckland I am totally supportive."
He said: "I don't spend any money on casinos or pokies as I don't drink alcohol, so my views are not really important in this."
As former Auckland City councillor and now Green MP Denise Roche points out in a recent blog, Mr Banks has not always been such a shrinking violet about such matters. She points to the then MP for Whangarei in full flight in June 1999 in a parliamentary debate over casinos.
"I say to the member who spoke previously that I do not care what some rich wide-boy who might meet our ambassador next week thinks about what he can spend his money on. If he wants to invest in the misery of the lives of the people of New Zealand, then our ambassador should tell that wide-boy to stay on his ranch ... in the United States of America, because we do not want his money."
He was attacking a decision by the Casino Authority to permit a casino in Queenstown.
"The decision by the Casino Control Authority today is a well-guided missile in the form of cocking a snook."
While it was perhaps not the most comprehensible sentence ever delivered in the Queen's English, his message was clear.
"The people of Queenstown overwhelmingly said: 'We do not want a gambling den here'."
He attacked a law that allows the Casino Control Authority to "ride into town and deliver to the fat cats their blood-sucking corporate enterprise".
He said "the casinos want the money of the most vulnerable people", and invited parliamentarians to "go and watch the Polynesian-Maori office cleaners at 2 o'clock in the morning in the Auckland gambling den, to see what point I am making."
Two years earlier he was on the same theme, claiming that "the little people of this country have been sucked, hung, drawn, quartered, bled by these people in these casinos".
Ms Roche's trip down hypocrisy lane is more than just an exercise in pulling the wings off a trapped fly.
She highlights that in a parliamentary vote on whether to rubber stamp the Government's proposed deal to get SkyCity to build a free international convention centre, in return for between 350 and 500 more pokie machine licences, Mr Banks might well hold the casting vote.
As things stand, National has the support of only its sole United Future partner, giving it 60 votes in favour. Against this are the 60 votes of Labour, Greens, Maori, Mana and NZ First.
When it comes to the evils of gambling and alcohol, Mr Banks has long been an old-school wowser and proud of it. He saw what alcohol did to his parents and has often said it was a lesson he would never forget.
Like the Queenstowners a decade ago, Aucklanders appear strongly against the proposed deal. So there's that principle to address. Will Mr Banks back their right to be heard? But more to the point, when Mr Key finally puts the chips down, which way will the Epsom wowser poster-boy jump?