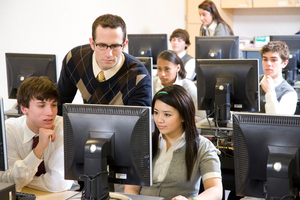 I have been privileged to be in teaching and teacher education for more than 40 years, and to lead two high decile and high achieving secondary schools over 16 years, and am now finishing as the acting principal of a decile one school - De La Salle College in Mangere. Again, what a privilege to work with dedicated staff, in a school providing so much for its students and community.
I have worked alongside some of the most outstanding teachers of this country - men and women every parent would love to have teaching their children. What about one teacher I know who constantly marks essays till after midnight and emails this feedback promptly to her students? As a result, many of her students are gaining excellence subject endorsements and scholarship passes.
Another teacher constantly takes students well below average in ability and lifts their performance to above national averages. Some of these gifted teachers are ambitious and do get promoted to middle and senior management positions, which reduces their teaching time. Other equally gifted teachers choose to stay as full-time teachers.
I believe there needs to be a system for further rewarding these teachers who are in middle management (deans, or teachers with faculty responsibility), or who choose to stay as full-time classroom teachers.
Mechanism. The school I am involved in has a total staff salary approaching $5m/year, 7 per cent of this is for management responsibilities. Each Management Unit (MU) is $4000pa and Middle Management Allowances (MMAs) are worth $1000pa.
Typically, a faculty head may get 3MUs and 1MMA, with some time release to do their job. I believe all schools could be given say 15 per cent more management units above entitlement, for the Senior Management to allocate as Fixed Term Reward MUs - this would add 1 per cent to our salaries bill, but it would make a huge difference to staff morale, and retention!
All schools know their most talented teachers. I would love to provide several of our stars 1-2 Reward MUs for their outstanding work.
Criteria would include: evidence of effective teaching provided in the annual appraisal process, examination results (comparing their students' grades with what they get for other subjects), contribution to faculties and the school ethos as a whole (hence extra-curricular commitment would be considered), proven readiness to participate in professional development aimed at improving teaching methods, and being prepared to take a lead in sharing best practice with colleagues. Where I have done this on a minor scale in another school, the staff has been delighted to see classroom teachers rewarded. It can work and is long overdue.
Secondly, I believe there should be increased proportions of MUs available to schools that are performing above their national levels for decile ranking. A school that consistently gets say 15 per cent higher pass rates than their decile ranking would indicate must have a greater proportion of teachers doing more to add value to their students.
Schools that are underperforming need to look very closely at what they are doing and listen/watch and replicate what their better teachers are doing, and not make excuses. Wouldn't it be great if there was a further pool of 15 per cent of MUs nationwide available for higher performing schools? These would be allocated to state schools pro-rata on results. A working party involving SPANZ, NZQA and PPTA (if interested) could have the system devised for 2013 if the will was there.
I have not commented on how we might reward the equivalent proportions of outstanding teachers in our primary schools. We all know who they are in our children's schools and again I believe most principals would love the discretion of being able to spend an extra 1 to 3 per cent of their school's salary bill on rewarding their stars.
Please note how realistic I am in this proposal. Adding say 2-3 per cent to a nation's salary bill for teachers, where international research reinforces the importance of teachers, is likely to have economic benefits further on.
Instead of teacher unions bleating on about how difficult this would be to implement, let us see some positive thinking and action and a strong proposal taken to the Ministry.
Brendan Schollum is acting principal of De La Salle College, Mangere East.