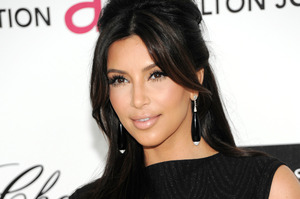 Socialite and slick self-promoter Kim Kardashian is on the warpath.
And it's all down to a tabloid's seemingly fantastical take on her love life.
The reality TV titan has come out guns blazing to slam a report that she is "sinking to a new low" and dating her pal Eva Longoria's ex-boyfriend Eduardo Cruz.
Longoria and Penélope Cruz's little brother split earlier this month after dating for just over a year.
The lowdown: In Touch magazine claims that Kardashian - whose marriage to basketball star Kris Humphries hit the skids in October - has been "throwing herself" at Cruz, and is enjoying a "steamy secret romance" as a reward for her advances.
The mag also alleges that the Desperate Housewives star has been having "second thoughts" about her split from Cruz - but that hasn't stopped Kardashian from sending Cruz "flirty text messages and sexy pictures of herself".
And the final blow... Kardashian and Cruz are supposedly planning a "romantic trip to Mexico" next month.
Scandalous!
However, Kardashian has since piped up to slam the magazine's report.
"I'm used to rumours and almost never address them," she wrote on Twitter. "But it's not OK when magazines like InTouch involve my close friends in their made up stories.
"They were told by multiple people that their current cover isn't true, but they decided to go ahead and run it anyway. So here you have it."
So there you have it.
In other Kardashian news... She's just topped a list of the most overexposed celebrities, according to website Forbes.com.
Other culprits who made the list: Lindsay Lohan, Jersey Shore star Nicole "Snooki" Polizzi, Nadya "Octomom" Suleman, Paris Hilton, and other members of the Kardashian clan.
Check out the full list here.
Blogger's Briefs
And finally ... feast your peepers on this lot:
* Lindsay Lohan off formal probation, swears she'll never stand before a judge again.
* Oops: Charlie Sheen talks meltdown.
* Elton John opens up about bullying and his past drug use.
* No, you're not dreaming: Dallas reboot cast get naked for new show promos.
* James Van Der Beek and wife name newborn son ...
* Megan Fox is happy she's not ugly.
* Grey's Anatomy star Patrick Dempsey dead? Nope. Just another victim of a Twitter death hoax.
* Amy Winehouse leaves her fortune to parents.
* Jim Carrey to marry Russian girlfriend?
* Madonna coos that she's a "bad girl" in steamy Truth or Dare perfume ad. Check out the 30-second spot below:
- Blogger Bites Back