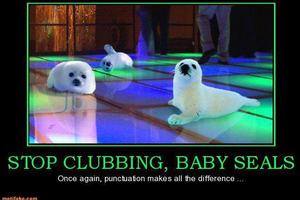 Once again, punctuation makes all the difference.
Staying power of Chipmunks
A reader noticed a bus advertising the Chipmunks Chipwrecked movie in cinemas on December 15 - nearly three months later. Did the advertising agency just forget to remove the advertising, or is the movie that good that it's still showing at the cinemas? Or maybe there have been no other film releases since mid-December that are worthy of bus advertising?
Samaritan saves parking hassles
Good Samaritans still exist. Jim and his wife were in Takapuna and wanting to park in a pay-and-display carpark off Hurstmere Rd. It was drizzling and they were to meet friends at a nearby restaurant. There were two other women at the ticket post who were experiencing problems with the ticket machine. In exasperation, they gave up. They found no slot to accept notes and the machine would not accept their credit card. They also had little in the way of coins.
One of the ladies offered to exchange their note for people's coins. Then a passerby told them he had an all-day pass that he had finished with and they were welcome to it. Whoever you are, please accept sincere thanks for your generosity to a couple of strangers.
The awful truth about post codes
Kirsty was at a North Shore Post Shop last week and was drawn into a rather surreal exchange between two New Zealand Post staff and a customer, who wanted to send a parcel to Mangonui in the Far North. Unable to find the town on her computer system, the clerk could not print an appropriate postage label, but suggested Mt Maunganui or Wanganui might be the required destination. Discussing the finer points of New Zealand geography, the customer played his trump card: the postcode, purposely designed for postal sorting and direction. "I'm sorry, sir, our computer systems don't recognise post codes." She left them trying to find a map.