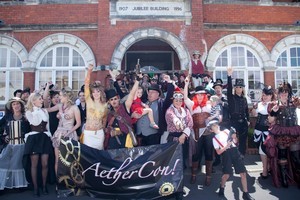 Attention all backyard shed inventors, corset-wearers and Jules Verne buffs: you may be unsuspecting steampunkers. Steampunk, many aficionados say, came into their lives as retro-futuristic art, literature, attire and gadgets long before the Victorian sci-fi subculture claimed its name.
It's "steam', as in 19th-century propulsion, and "punk", as in "cyberpunk" - a reaction against today's apparently impersonal, disposable, technological dystopia. And - judging by the relaxed and well-dressed (if sweltering) throng at the first Auckland "Aethercon" in Parnell last Saturday - it's possibly the most elegant, inventive and witty of all subcultures.
Jubilee Hall was full of aristocrats, explorers, botanists, adventurers, sky gypsies and sky pirates (think Robert DeNiro's character in the delightful Neil Gaiman-based fairytale Stardust). Raspberry-haired Unitec costume design student Kelli Prince was dressed as army medic "Elsie Morrison", carrying vials of blue liquid on leather belts that she'd hand-stitched over an elaborately bustled and buckled khaki pinafore.
"I'm into the grubbier Victorian buzz; the poorer kind of peeps," said Prince, who spent around 40 hours making her costume.
Standing beside her was Stephen Brockett, aka "Vincent Vector", who wore manoeuvrable homemade wooden bat-wing frames over his neat vest. "I'm inspired by Icarus," the young man explained. Erm, what about falling to his death and all that? "Oh, I'm hoping to do better than him thanks to the technology we now have," was the prompt reply.
This "technology" includes contraptions such as pirate hunter "Xian Ism's" interactive time machine, made from a typewriter, an ancient radio, a working laptop, a joystick and mirrors; you can use it at Splore this weekend. Calendars at Aethercon showed grainy photographs of a blimp-like "Airship Halberg" floating above the Sky Tower whose "secretive, shadow mission" is to investigate certain "eddies in the time-space continuum". Illustrator Gareth Jensen exhibited "Birth of Industry" watercolours of large, metal beings reminiscent of Scottish sculptor Eduardo Paolozzi's giant cubist humanoids.
William Morris would be horrified: the Industrial Revolution which his Arts and Crafts movement was protesting against is now considered romantic. Steampunk is aware of the irony of escaping today's technology by celebrating another era's automation. Aethercon organiser Michael Hodgson admits he's a software engineer. "We're not like the Amish," he says. Steampunkers just like to escape the present occasionally.
Steampunk doesn't explain away the paradox of science versus nature or art, but revels in it, says Susan Wardell of Romance Rewound jewellery, up from Dunedin. She showed me a metal pendant incorporating calla lilies and clockwork, the softness of one contrasting beautifully with the intricacy of the other. Other stalls sold fascinators decorated with sprung wire, and flesh-wound prosthetics revealing robot cogs underneath skin.The machinery stops the Victoriana from being too soft-focus sentimental, too lacy sweet.
Then Hodgson helped "evil genius and mad scientist" Boris Van Galvin try to electrocute me with a real 1908 electro-shock therapy device wired up to a dial on a wooden box. I got a tingling buzz after foolishly holding their outstretched hands, team-building trust circle-style, while they were each holding one tube.
The alter ego of Motat blacksmith Andrew Hooper, Boris wore mutton chops and a maroon tunic, and his dirty fingernails attested to time spent in his inventor's workshop. His eyewear - made out of copper drainpipe and welding goggles - sported the engraved plate "X Ray Ban since 1842".
Steampunk: showing self-described nerds at their most styley and amusing since 1842.