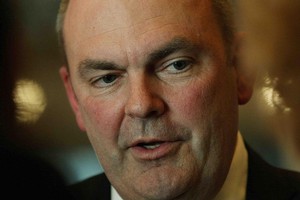 Yes, yes and yes, Mr Joyce! It was with great pleasure I read the oped piece by Steven Joyce in the Herald this week. We do indeed need to encourage our entrepreneurs to produce and, in particular, to export more to pay for the lifestyle that we want as New Zealanders. We do need to identify our markets and connect ourselves more with capital and expertise. Our infrastructure needs to be the platform from which to build business and high value jobs for our people.
In the Lake Taupo region we have been running a programme to identify entrepreneurs in our community and then, most importantly, work out how to energise, incentivise and support them. This programme was designed to tease out some of the roadblocks mentioned by Mr Joyce by working closely with the younger and most entrepreneurial in our region. Our team was astonished by the passion, innovation and desire to export found in our region. We have found new Kiwi products, new technology and a drive for change which has taken us by surprise.
We have also started on research amongst our more mature and successful entrepreneurs so we can learn from their life experiences and accumulate knowledge for those starting on the entrepreneurial path. Interestingly connecting these two groups has created some of the most exciting developments.
However, at a macro level, what have we learned that can be used for the future? We have been purely focused on exportable, saleable business. In other words, can we export it, does the world want it and can we grow the business big?
There are common themes which repeat and are voiced by new and mature entrepreneurs alike:
1. The speed of change in the international market place which is difficult to follow given our geographic distance from our markets. It is easy (relatively) for Fonterra to keep track of change but not for small New Zealand businesses.
2. Lack of support from the community at large and from many government agencies in particular.
3. Capital raising and the related issue of knowing how to prepare a business for investment.
All these issues could be addressed through a change in direction of government and, in particular, the Ministry for Economic Development and its sidekick, New Zealand Trade and Enterprise. Government has the policy of supporting the bigger, established companies and a handful of 'high growth' companies.
This is understandable given funding constraints but is akin to New Zealand funding the All Blacks and maybe a handful of the top provincial teams. We wouldn't have the All Blacks without the funding structure for grass roots rugby and support to grow our total rugby culture. Export businesses usually start small and we need to prepare a seedbed of export companies from which we have a chance of developing a fully fledged export based economy.
Some of the support mechanisms which would make a difference are:
1. Providing relevant international market intelligence in a timely way. Put simply, finding out what our international customers want today.
2. Meaningful support from government agencies by understanding the importance of export growth (and its drivers)
3. Understanding the investment desires of our investors.
We have the infrastructure to provide this across our entrepreneurial community. It is not currently happening. Even by amalgamating a group of our local entrepreneurs, all with export capacity, we do not reach the threshold for assistance. What we have done in the past has not worked, maybe we could try something else. Maybe we could ask the entrepreneurs, what would be helpful? There is nothing to lose by asking these questions and everything to gain.
* Sue de Bievre is the Chair of Enterprise Great Lake Taupo, the economic development agency for the Lake Taupo region. If you wish to participate in the research being undertaken by Enterprise Great Lake Taupo, please contact info@greatlaketaupo.biz.