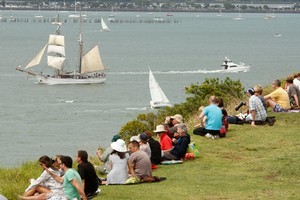 If Monday is fine I might take a wander on North Head, watch the anniversary regatta and ponder Auckland. From there, with a little imagination, you can see the city's beginnings as well as its splendour.
Away to the east, below Rangitoto, you can make out a small craft of some sort with a sail and rowers. It is alone in a landscape of trees, fern and silence.
You watch it nose into Hobson Bay and disappear towards Orakei Basin. On board are two young Scottish opportunists who will make landfall in there somewhere and go looking for the local chief.
You know why they've come. Up north where the Treaty had just been signed, word had got around that Hobson was looking for a more southern site for a capital and the smart money was on the Waitemata.
Hardly anyone lived here. Tamaki Makaurau, as Maori called the isthmus, had been for centuries a metropolis of Maori villages, a natural crossroads for water transport with its two harbours opening to different oceans and the Waikato River not far away.
But all the occupants had fled in the 1820s when Ngapuhi came through with muskets.
By 1840, a Ngati Whatua hapu had cautiously reclaimed the isthmus and had sent a delegation to Waitangi, offering some land for the capital as their protection from further raids.
The subtribe was living mainly at Onehunga when Logan Campbell and William Brown found their chief, Apihai Te Kawau, and asked if they could buy Remuera.
From North Head you can see the Remuera ridge where, with Apihai's "no" ringing in their ears, the pair gazed down on the Gulf and decided to buy Motukorea (Browns Island) from a Hauraki tribe in the meantime.
They were over there, raising pigs on Motukorea, when they saw the government survey ship arrive. They saw it sail into the Tamaki River rather than the Waitemata.
Hobson's surveyor thought Panmure was the obvious site for the town. It had been the Maori population centre and its headland commanded the water highway from the north to the Waikato. But Hobson found the inlet too shallow.
His scouts went into the Waitemata. From North Head you can look up the harbour and, with an effort, imagine the bays that Hobson's boat explored. Freemans Bay is now Victoria Park, St Marys Bay is motorway. Commercial Bay, which he settled upon, is Customs and Quay Sts.
The spot where his party finally anchored is said to be near the end of Queens Wharf. They built a government store on the foreshore where Shortland St meets Queen St today.
Hard on their heels came enterprising adventurers such as Campbell and Brown and land sharks from Sydney who knew how fast property values rose in the first years of a settlement.
Tents and then shops soon stood on the Shortland St rise, all the way up to Princes St where houses were built for the Governor and his officials, looking down into a little bay that is now Anzac Ave.
Next to it, at the bottom of Constitution Hill, was Mechanics Bay where Maori beached their waka when they came to trade. The tide must have washed almost to Stanley St and the edge of the Domain.
Auckland has buried its original waterfront, with few regrets. Old photographs show an ugly shore cluttered with the usual marine industry detritus.
I have a large framed photo over my fireplace shot with a wide-angle lens from a balloon above the end of Queens Wharf a century ago. It is there for historical interest, not beauty.
The wharf looks charmless. To its west there is no Viaduct Harbour, no Wynyard Quarter, no Victoria Park, just a shoreline of oily junk all the way to the rubbish incinerator that became Victoria Park Market. East of it, there are no container wharves, no Tamaki Drive.
Reclamations of the Waitemata have been for the better but there comes a time to draw the line. Port plans highlighted by the Herald this week might be too much. It is hard to tell.
The navy, which usually has a frigate out for the Anniversary Day Regatta, should anchor on the outermost line of possible wharf extensions on Monday. It is not until you can see something encroaching too far on a scene of value that you realise how delicate the scale of things can be.
Additions as trifling as flags on the harbour bridge can ruin elegance. But, then, big is not necessarily bad. The Sky Tower looked out of scale when first built. Now it is superb.
Auckland is not given to celebrating its past or present. The regatta re-enacts one of the city's founding events but landlubbers need to honour the anniversary too. Perhaps a walk on North Head will do.