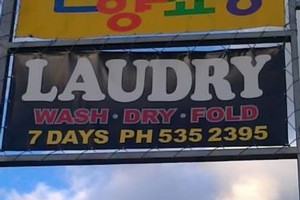 Checkout chivvying a pain
"The self-serve checkouts at Pak'nSave are very clever," declares John. "No matter how small your item they know whether or not you've put it in the bagging area. You couldn't for example buy two toothbrushes, scan the same one twice and put them both down together the way a checkout operator would. When it comes to removing your items though they may be clever but they aren't patient. Last night with a small load going straight back into the trolley I was asked four times to remove my items from the bagging area. Previously with a larger load I was putting into bags I was asked 10 times. The program must know that you are continually removing items so I don't know why that pushy voice has to keep giving you the hurry up. The female voice sounds nice enough but I doubt any male computers will be proposing to her any time soon..."

Vibrant city? Yeah, right
A reader tries to get a meal in Auckland post silly season: "Can anyone enlighten me as to why so many bars and restaurants in Auckland close down for three weeks over the Christmas and New Year period? Last week (not on a public holiday) I had to visit five cafes before I could get a coffee, and on the weekend I phoned or visited four different restaurants before finding somewhere for dinner.
I would have thought this would be a busy time for the hospitality industry as people would want to socialise more and cook less. I realise many people go away, but tens of thousands of Aucklanders decided against a wet week in Whangamata and opted to stay home. During the Rugby World Cup, we were trying to convince tourists Auckland was a thriving, vibrant, exciting, first-world, international tourist destination. Any reputation and momentum gained then is well and truly dead now."
Scar story
"When I was tramping with my family at Lake Waikaremoana in Urewera National Park and while whittling a piece of wood, I slipped and sliced through the back of my thumb quite severely. It would've been a drama - the only first aid supplies I had in my pack was a box of Band Aids for blisters - but it turned out that there was a Canadian doctor in the hut who had a sutures kit with him. While he was stitching me up (without anaesthetic), he explained that he always carries his suture kit because he has a daughter who plays rugby and she has lots of scars too."
And on a positive note...
Andrew writes: "People need to look on the bright side. Only getting seven Grain Waves in a packet cuts down on your risk of obesity, diabetes and heart disease. Similarly, the constant rain and complete absence of a summer this year means less risk of melanoma and skin damage. Hence, we'll all be looking younger and slimmer than usual this year."
Top marks for parenting
Tweet of the Day: "Today I saw a woman embarrass her surly teenage daughter into compliance by publicly riverdancing at her. Superb parenting skills."