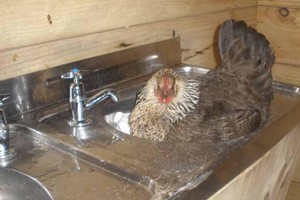 "Visitors to the women's toilets in the Kerikeri basin near the old Stone Store are in for a surprise," writes Allison. "Nestled in one of the basins is a broody hen, who has made a nest for herself out of toilet paper and squawks at anyone venturing near. A woman managed to take a look underneath and sure enough there was at least one egg being carefully nurtured in the basin."
Scar stories revisited
"My sister and I were waiting in the car while Mum did some shopping," writes Lisa. "She wondered if the electric cigarette lighter was working (Dad tended to disable them) so pushed it in, pulled it out and stuck it on my forearm ... and yes, it was working, and no, they don't need to be glowing to be very hot!"
But wait ...
"I am sure I have the ultimate scar story," writes: Brett Maitland. "In 1985, while rescuing a colleague at the zoo, a jaguar took a bite out of my lower leg. It then tried to drown me in its pool, leaving me with a 20cm scar, just above my ankle."
... there's more
Rob Grant of Hamilton writes: "On Monday April 1, 1974, while slashing a hawthorn hedge, a thorn went through the vein on my right wrist. There was a nasty blue swelling right on the vein so I went to my doctor. He couldn't find anything but wasn't certain whether the thorn was still in the wrist or not (or worse that the thorn had somehow got into my blood stream and was on its way to my heart).
The next morning I found myself in a private hospital under the care of an orthopaedic surgeon. Nothing was found. The resulting 40mm scar remains. "No charge," said the surgeon, "you're my first under this ACC scheme, which started yesterday!"
Goes against the grain
A reader writes: "A freshly opened pack of Bluebird Grain Waves from an '18 pack' bulk pack contained exactly seven 'waves'. Is this a joke?"
Gimme a break!
Doreen Wallace fell in the lobby of the Greater Niagara General Hospital in Ontario and broke her hip. Though it was less than 45m to the emergency room, hospital staff, following rules, instructed her to call an ambulance ... The nearest such ambulance was in the next city and did not arrive for 30 pain-filled minutes. (Source: News of the Weird)