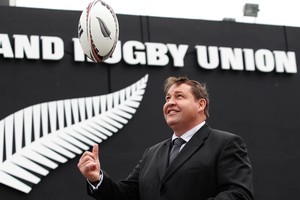 To no one's surprise, Steve Hansen has been appointed the All Black coach.
As the last man standing from the triumvirate that led New Zealand to World Cup glory this year, he was the obvious candidate. So much so that, for better or worse, there was never any prospect of the sort of competition that saw Robbie Deans go up against Graham Henry four years ago. There is enough, however, in the terms of Hansen's appointment so far made public to suggest this does not mean he can rest on his laurels.
The most obvious sign is that he has been handed just a two-year deal, which will take him through to the end of the 2013 season.
He must be successful in that period because although there is no competition for his job just now, that will have changed in a couple of years. Overseas, Vern Cotter, with French club Clermont, and Joe Schmidt, at Heineken Cup winners Leinster, are cementing strong reputations.
Locally, Jamie Joseph and Todd Blackadder have made very good starts with their Super 15 teams, while the work of new Chiefs coach Dave Rennie will be closely monitored given his excellent work with youth and provincial teams.
The identity of Hansen's back-up staff was always going to be of much interest, if only because they have such a hard act to follow. The rugby union has approved his preferred team, which will comprise just one assistant coach, along with a number of others in specialist roles. For contract reasons, this will be named later. Clearly, however, it will not be the lineup long associated with Hansen. He had been thought originally to want two assistants - former Chiefs coach Ian Foster as the backs coach and former Canterbury coach Aussie McLean to oversee the forwards.
There will doubtless now be speculation that Cotter could be the assistant coach. Hansen, whose reputation for flair and imagination never seemed to match that of Graham Henry or Wayne Smith, may have decided his assistant should bring a strong dose of these qualities. Cotter has fashioned teams notable for their innovation in his time with Bay of Plenty and, most recently, in France.
Hansen's challenge in seeking to build on the All Blacks' triumph in the ultimate rugby arena does not end with the likely emergence of stronger rivals.
Another is his very familiarity. Eight years with Graham Henry and Wayne Smith have undoubtedly added vastly to his coaching arsenal. But such longevity brings inherent problems.
When difficulties occur, people are apt to turn against long-standing incumbents far more quickly than those who are relatively new to a role.
Hansen's personality will also have to stand the test of greater public exposure.
During the World Cup, a contrived laconicism became somewhat tiresome. So, too, did a view that the All Black coaching staff knew best.
That attitude may suffice when the team is winning but becomes a dire turnoff to a rugby-savvy public when the road gets rocky. Hansen should make the most of the advice he has sought to improve his public image.
His elevation may have been non-contentious, but that state of affairs will not linger long.
There is much to do in the next two years if he is to be charged with defending the Webb Ellis Cup in 2015.