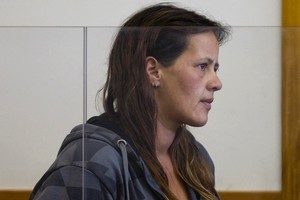 There would not be a parent in the country who would not feel some sympathy for Mellissa Anderson, whose 13-year-old daughter Summer was attacked outside Kaipara College in Helensville.
Anderson appeared in the Waitakere District Court this week charged with assault after allegedly slapping one of two 14-year-old girls who had attacked Summer.
There doesn't seem to be much dispute about the facts: the alleged assault occurred in front of attending police officers and Anderson herself wasn't running for cover. "I slapped her a couple of times and I was still holding her when the cops put me on the ground," she told media, but she was less forthcoming after she came out of court, having entered no plea.
Kaipara College principal John Grant was keen to emphasise that there was no bullying problem at the school, saying that what the two 14-year-olds - and Anderson - had done was assault. It is a very fine distinction, one would have thought. Does an action committed on school grounds change in nature if it is repeated outside the school gate? Is there any physical bullying that is not assault?
But it is interesting that letters and emails to the Herald were overwhelmingly in favour of what Anderson had done. A selection: "I'd get feral too"; "You go, girl!"; "Defending your family should never be punishable".
It is easy to mount objections to the idea of parents taking the law into their own hands in matters like this. But modern notions of providing mediation and counselling to troubled teens who inflict violence on their schoolmates rather depend on the availability of people (read: funds) to provide the mediation and counselling.
No one would want to contemplate a situation in which parents of children who had long-festering grievances engaged in pitched battles or simmering feuds. But dispensing summary justice, by way of a good clip around the ear, to someone who has a demonstrated fondness for handing out hidings can be a salutary reminder that picking on people smaller than you cuts both ways.
It is in line with an unfashionable but far from undesirable tradition of village discipline - taking care of our own - that we could do a bit more of. Tying up police and court time dealing with the actions of kids who need a bit of a hurry-up makes no sense at all.