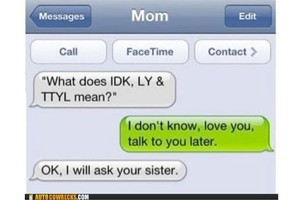 Parents have always had trouble interpreting teenspeak.
Sharp lesson for boys
Scar story #1: Liam Ryan of Bayswater remembers just before his 5th birthday ... "I was at a friend's house. The father was chopping wood and we decided to join in as lumberjacks. I missed the log with a tomahawk axe which buried itself in my foot, slicing one toe almost off and another in half. I still have the scars."
Hot under the collar
Scar story #2: "Many years ago I was in a hurry to leave for work and the collar on my shirt wouldn't sit properly," writes Jan McIlroy. "I heated the iron, put a wad of cloth under the collar and tried to iron it down (still wearing the shirt). I heard a hissing noise as the point of the iron ironed my neck! The scar was there for many years before it finally faded away, but it was a good talking point and a source of great amusement."
Hands-on discipline goes awry
Scar story #3: Linda writes: "In the 1970s my 10-year-old son had been told many times that he was not to use a scissors while sitting on his bed. I caught him once again and went to administer a smack. The palm of my hand hit the sharp point of the scissors which sliced an artery. Profuse bleeding meant a quick trip to Waikato A and E. Thirty-five years later he is still coy about whether he deliberately pointed the scissors at my approaching hand."
A fashionable meal of it
Fashion met cuisine at Berlin's Communication Museum as prominent German chef Roland Trettl introduced his outfits (displayed on live models) made from food, including a tunic of octopus, a miniskirt of seaweed, a trouser suit made with lean bacon, a scarf of squid ink pasta, and a hat woven from lettuce. (Source: News of the Weird)
High hair hijinks
The woman who had her afro searched by airport security reminded John: "Back in the early 60s one of our girls in the office sported a high volume bee-hive hairstyle. We managed to insert 19 full-length pencils from the stationery cupboard before she noticed."