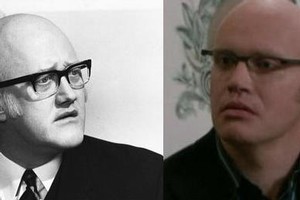 Shortland Street's gothic anaesthetist Luke Durville looks remarkably like Are You Being Served boss Mr Rumbold (Via DanNews.co.nz)
Ooh er, ee's clever, our Key
The Coronation Street timeslot switcheroo: That must rank as one of the greatest election ploys of all time. Coronation Street gets relegated to a 5.30 time slot eight weeks out from the election in favour of an Aussie baking contest. Big John steps up to sort the problem and Coro is back on at 7.30 two weeks out from the election. Maggie Thatcher used the Falklands war for electoral victory, George Bush used the war on terror and our own big John uses the rescheduling of Coro Street. Brilliant!
Hammering down house prices
Real Estate rorts: Most sellers are under the impression they will get more from going to auction. A reader who witnessed a situation in Birkenhead reckons that's not always the case ...
"The house was sold by auction and the seller had moved out. The new owner had already moved in when the previous owner found a set of keys for his old house. On his way home one evening he decided to stop by his old residence to give the new owner the extra set of keys. The new owner, when given the keys, assumed his visitor was from the real estate agency and blithely told him that he was really glad he was able to buy at the auction as he would have been quite prepared to pay another $29,000 for the house but, as he was the highest bidder, he hadn't had to. Not good news for the seller, but a situation which I suspect would happen quite frequently."
The queerest thing happened
The hard way to come out: Chris Birch was a man who knew one end of a rugby ball from the other and who was engaged to be married to his girlfriend. That was until one day in 2005 when he broke his neck and then suffered a stroke. When he awoke he found himself to be a different person. After his long recovery he became a hairdresser and now lives with his boyfriend above the hair salon where he works. (Source: NYDailyNews. com)
Whaddya take me for, a sucker?
Mike from Westmere writes: "Front and centre on Pascall's Lolly Scramble packet is the Mighty Mintie; sadly 200g of "grab 'em while you can" deliciousness didn't include a single Mintie. One would think looking at the mix that Fruit Burst (21) are obviously the cheapest to manufacture, followed by Milk Shakes (5) and clearly Minties are simple too expensive to add to the mix (0). Is this a rogue packet or what?"