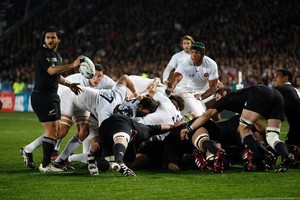 Optimism abounds. Let credit agencies downgrade the country, let the world worry about Euro debts, let Dan be struck down and Richie play on painkillers. We'll be right.
It's hard to know whether the success of the World Cup so far is merely intoxicating or has made a lasting impact on the national spirit. I'm optimistic enough to believe it will last.
The response to the Carter catastrophe this week has been better than could have been predicted in all the years we've entertained this very nightmare.
Every rugby follower sees the chasm he leaves and rationally we know we should be in despair, but we're not. We're smiling, and not too grimly. Now the nightmare is real we find it an interesting, extra challenge.
Clever leadership has helped. Graham Henry's call for sympathy for Carter diverted much of the week's discussion. The story became Carter's misfortune, not the team's.
This weekend we'll see whether the coaches are as clever at compensating for the drive Carter supplied. We might see more positional switching within the game, fullback or wings running from first-five more often. We might see yet more of the talents in that man with the delightful name, Sonny Bill.
Positional changes alarm All Black supporters who blame previous World Cup failures on them. But backs ruck these days and forwards run. Henry and co talk about "skill sets", not static positions.
Historically, All Black coaches have been the innovators of the rugby world, thinking beyond the game's conventional wisdoms, coming up with tactics that others copy and learn to counter while their team is working out something new.
They are usually ahead of the game. They attribute their downfall at World Cups to thinking too far ahead. The team has lost in sudden death rounds when their heads were in harder contests to come.
This time, they assure us they're taking nothing for granted. From here on, says Sonny Bill, "there is no tomorrow".
Twice we've learned how sudden the death can be. Time runs out very fast in a rugby match when an opposition that was on the ropes at half time finds a second wind and a generous referee.
A couple of weeks ago I invested in one of those headsets that let you tune into the referee's microphone during a match. I heard South African Jonathan Kaplan referee Canada-Japan at Napier and England's Dave Pearson control Georgia-Romania at Palmerston North.
It was quite a contrast. Kaplan said very little unless he had reason to blow his whistle. He also got frequent sensible assistance from his linesmen and the television match official for things he couldn't see.
Pearson ran the show himself, talking incessantly to the teams and not just to keep them onside or warn against hands in a ruck.
At one point, he told the Romanians they'd kicked more up-and-unders in 10 minutes than he'd seen in the whole tournament. I don't know why that mattered to him.
The other officials kept quiet, leaving it to him to produce the game he wanted. To be fair, he didn't want the professional fouls that let a second-rate side stay in the game, but he didn't use his yellow cards either.
The referee's a vital part of a good rugby production and they run a match more closely than I'd realised. Optimism says they want to produce games at the pace the All Blacks play.
This will be an interesting weekend for rugby's immediate future. Each hemisphere is playing its own knock-out round. But the distinction between northern and southern styles is not as wide in this World Cup as it used to be.
Of the northern teams, only England is playing truly awful rugby now. France were fast and strong against the All Blacks until the brilliance of Henry's team took over, and Ireland and Wales have backlines these days.
On the southern side of the draw, all teams are having to scrum in the rigid northern style. Every World Cup watcher by now can clearly recite "crouch, touch, pause, engage".
We've given up wondering why it matters if a scrum collapses while the ball is coming out. With nothing else to watch while a scrum sets four or five times before the inevitable penalty, it has become interesting to study the props grinding away in their mysterious private game.
Old props, like a Canadian I met in Napier, relish watching it. Like them all, he reckoned referees didn't know what's going on. "Referees were all backs", he said.
A worrying number of visiting fans appeared be old props. But optimism says open rugby will win this weekend for the sake of the game.