Dunedin City Councillor Neil Collins was compere when the Rolling Stones played two shows in Dunedin on February 3, 1965.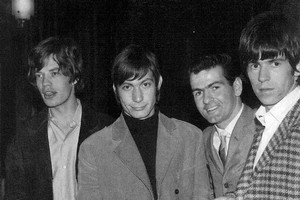 On a warm summer's night, 2800 people packed the Dunedin Town Hall for a package show that also included the New Beats, Ray Columbus and the Invaders, and Roy Orbison.
I recall the electric atmosphere of the Rolling Stones' performance vividly. As soon as they walked on stage the audience were on their feet and many surged to the front of the stage.
A line of policemen got there first and locked arms against the screaming fans.
The Stones kicked off with Little Red Rooster and It's All Over Now, and the packed hall was going off. Mick Jagger was having a problem with someone in the balcony throwing jellybeans at him as he shuffled around playing a set of maracas. He screamed at the police to 'get up there and throw that bastard out'.
Jagger had been swinging the microphone around. The contracted sound operator was no fan of rock'n'roll. He appeared at my elbow and said, 'Tell your mate to stop swinging my microphone or I'll turn the sound off'.
I knew what would happen and grabbed the police officer with the most official looking uniform. 'If he turns off the sound you'll have a riot you can't control'. He ran after him and said, 'Step back; leave that sound alone'. 'Right, that does it,' the sound operator said and reached for his hat and went home.
It was very exciting. They were knocking out whatever they had out up to 1965. They were quite a contrast to Roy Orbison who was fantastic also. It was a magic night.
Afterwards the Rolling Stones, Roy Orbison and others including myself set off into the night walking down the street to an after show party at the Sunset Strip in Rattray Street.
The Rolling Stones walked on down the main street, no limos, no security, and no police; can you imagine that happening today?
- Volume