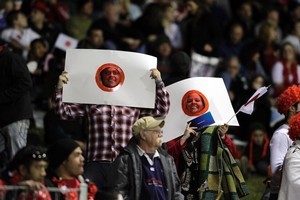 Like many women possibly, Colleen Gibbons had never been to a rugby match. In the 20 years she's lived at Tutukaka she'd never been to Northland's home ground, Okara Park.
She didn't think she'd bother with the Rugby World Cup until last week when she and friends decided to get tickets to the game on Wednesday night.
"We just wanted to see one," she said, "you get caught up in it."
Who would have believed a year ago that a New Zealand rugby stadium could be filled to capacity for a match between Tonga and Japan? Even a month ago Martin Snedden, head of the World Cup host organisation, was counting on fine days and a "walk up" crowd to sell seats remaining for almost all pool matches.
Anyone planning to walk up to Whangarei's stadium would have been out of luck. Canada's match there the previous week was a sell-out, too.
I had wanted to walk up to Waikato Stadium for the Wales-Samoa game last Sunday. No chance. I saw the game in one of Hamilton's great bars. It was like being back in Cardiff where I lived for a couple of years.
Samoan supporters were watching the big screen outside. In the bar every second person was wearing scarlet, and they were almost all locals reviving some ancestry. The visiting horde came along Victoria St after the game.
"This is great," said David Evans from Caernarvon as he left one bar and headed for another. "In Wellington [venue of Wales' previous game] we were told this town was a dump, but it's the best yet."
Three lads from Brecon, enjoying a curry in Garden Place, were arguing the relative merits of Steinlager and Speights.
Outside, teenagers were getting their balance on the temporary ice rink.
We owe this wonderful experience to councils as much as rugby. Some, like Hamilton's and Northland's have done it well, others have missed the bus.
Drive across the Bay of Plenty and you'd not know anything was on.
At Ohope a lone resident, Allan Unsworth, had draped a big banner on his hedge to greet Fiji. His mother was Fijian and he was fizzing with the response he'd found.
"The council could have done more," he said.
Drive into Northland and as soon as you've left Auckland territory signs at Kaiwaka direct cup visitors to a red barn. Inside, a carver is chiselling patterns on a clean log and a flax weaver is producing handbags.
Drive further and Waipu offers the dubious attraction of rugby in kilts.
But it is in Whangarei that you see the full flowering of the effort that has made the World Cup happen for people such as Colleen Gibbons.
She didn't go to a rugby match this week, she went to an event.
The Tongans and Japanese who drove up for the match were not just supporting their teams, they were participating in an event. With flags, face-paint and elaborate costumes in many cases, they were part of it.
People with no allegiance to either team are adopting one or the other and sporting their insignia.
They all come for more than a rugby match and they get more: a field bathed in floodlight at night, a stadium slowly filling with people and sound, a big screen and the bass thump of its distant speakers.
They get music. At night in the open air World in Union alone is worth the ticket.
They get an atmosphere built so well that by the time the game starts it almost doesn't matter who is playing. This is bigger than rugby.
Many more will remember this month than will recall the knockout rounds. This is what matters and it's a revelation.