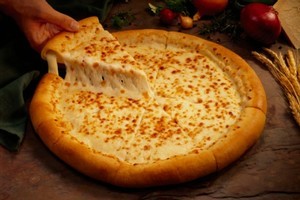 Smart boys those IRB chaps. They offer you complimentary food before a game and that sounds all right.
Another media perk, I hear you say.
Well, not quite. Two hours before a kick-off at Eden Park (and without a bite to eat all day), I headed for the food section in the media centre.
Er, there wasn't any. All gone, I was told. What, two hours before the start?
Making my way out of the ground, I crossed Sandringham Rd where, almost opposite the main entrance, stands Papa's Pizzazz.
Not a large eatery and not a pretentious one, for sure. But the food is what matters. So about 40 minutes before the big event, I joined the queue and was soon tucking into a good-sized portion of Pizza Hawaiian.
For $16, you got a whole pizza with thick crust and full of tasty ingredients. It was nice and hot, too. There were even tables down the side of the building, or you could have sat out the back.
Unlike the fare at many fast-food places, this meal tasted of something. And it was good.
Sixteen dollars to fill you up before the game? I'd say that was all right - decent value right outside Eden Park.
Best of all, they were cheerful and willing. Nice people, nice place. I'll definitely go back.