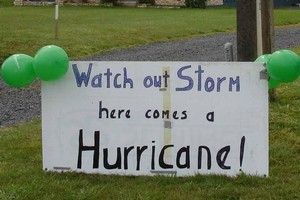 Rex Hohaia, father of Lance (known as the "Huntly Hurricane") of the Vodafone Warriors, who will be playing the Melbourne Storm this weekend for a spot in the NRL Grand Final, writes: "With all the euphoria surrounding the Rugby World Cup, I thought I'd remind a few passers-by on Te Ohaki Rd, Huntly, that there's another team that's doing well."
Dedication to the job - or not
In Denmark, organisers of the Road Cycling World Championships were shocked when, hours before the start of the race, they realised part of the course had disappeared - a keen road sweeper had cleaned off the finish line. It took two hours to re-establish the line and clean oil that had been spilled over another part of the course - oddly, the road sweeper had ignored that. (Source: Newslite.tv)
Soccer minus the cheering
Have you heard of silent soccer? Word Spy.com says it is a form of soccer in which spectators are not allowed to yell, cheer or coach from the sidelines.
Only clapping is allowed at games of the Aurora Youth Soccer League in Canada.
Phones are the new cars
Nick Bilton, a New York Times writer, tweets: "Last night @ a bar: Guy asks a girl for her #. Girl, intrigued, says yes. Guy pulls out a flip phone. Girl sees phone, refuses to give #."
The dangers of diesel
Robert would like to ask ACC: "Why does my private-use passenger car incur an ACC levy that is $113 more than usual, just because it has a diesel engine? Do diesel cars pose more of an injury threat than petrol cars? $417.61 is a ridiculous price to pay for 12 months' registration."