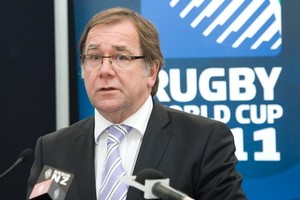 Rugby World Cup Minister Murray McCully must be feeling very pleased with himself this morning.
He'll be hoping that we all think everything went swimmingly at Party Central over the last two nights because SuperMurray, the Minister of Steel, moved faster than a speeding bullet and invoked special powers to extend the party precinct.
But it was a foregone conclusion that people would stay away in droves from the downtown waterfront area: it was not an opening event and the weather forecast was dodgy.
More important, about 150,000 Aucklanders are saying to themselves that it will be a cold day in hell before they get on a train or venture past Britomart on an RWC weekend. Even McCully would presumably not account that a success.
It is impossible to see the high-handed announcement that the Government would take over Party Central in anything other than political terms.
The National Government doesn't much care for Mayor Len Brown, Labour to his bones and with roots deep in South Auckland, so McCully's decision to blindside the Mayor, rather than making a joint announcement which might have demonstrated a collaborative approach, was cynical and calculated. It was to Brown's credit that his response to this deliberate humiliation was so restrained.
None of this is to minimise Brown's - and Auckland City's - responsibility for the chaos and carnage of September 9. The Mayor's pre-tournament cheerleading was sometimes stirring and sometimes cringeworthy - referring to Graham Henry as "my homeboy" and telling a global television audience that "the world is in the house" was, frankly, embarrassing - but taking the limelight without having done the hard work out of the glare of publicity was always going to be risky.
Likewise, talking in upbeat terms about how the vast majority of people had a great time on the opening night - a strategy in which the Mayor has been assisted by a loud chorus of voices telling the media to accentuate the positive - is a serious error of judgment.
The inescapable and chilling fact is that it was a miracle no one died on Quay St or Queens Wharf that night.
As fan zones in the north, south, east and west lay silent - incredibly, they will remain closed until the quarter-finals - 10 times as many people as could be accommodated crammed into a downtown area surrounded on three sides by water.
We should be thankful that the chaos, which made Auckland look like some Third-World hick town, does not seem to have been widely reported in the press further afield than Australia. But the typically dispiriting response from politicians and officials has been to point the finger at each other and decry the media.
McCully may speak glibly of Auckland having "dropped the ball" but he has always been in charge.
To seek now to depict himself as a rescuer of the situation, rather than as somebody deeply involved in its having degenerated into the farce that it became, is to play the worst kind of politics.
Waving a regulatory wand to extend the fan zone on to wharves where there is inadequate infrastructure and security is not going to be enough.
He needs to show the leadership expected of a minister and ensure that the failures - Auckland City's, Auckland Transport's, the rail company Veolia's and his own - are not repeated at the business end of the torunament.
And Aucklanders should not forget, at national and local body election time, who allowed this to happen.