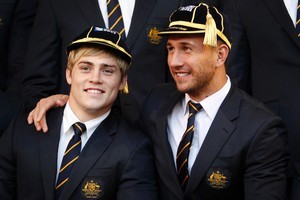 I was in two minds when I heard that we now have a Minister for Bad Manners.
On one hand, any initiative to check the apparently remorseless decline in civility is to be welcomed.
On the other, the various ineffectual if not counter-productive attempts to legislate morality do not bode well for a government push to improve personal conduct.
But it was all academic. The Minister for Bad Manners turned out to be a misnomer, akin to calling the individual in charge of the American military machine the Secretary of Defence. What we actually have, it seems, is a bad mannered minister.
Or do we? Does this oaf actually exist? He was brought to our attention by the Sydney Morning Herald's redoubtable rugby writer Greg Growden in his Ruck and Maul column, a spicy helping of gossip and whimsy which chronicles the behind-the-scenes ratbaggery of Aussie rugby players and administrators.
Like the mayfly, many of these items have a lifespan which can be measured in hours rather than days.
Growden was told by a trusted contact code-named "Jeeves" that a Cabinet minister misbehaved in the VIP lounge at North Harbour stadium during last Sunday's Australia-Italy match.
"He was yelling out 'f****** cheats' and other offensive remarks and then, when the Wallabies started to get on top, he suddenly left."
The three ministers who were there - Jonathan Coleman, Wayne Mapp and Maurice Williamson - stoutly deny both the thrust and the detail of the allegation.
There are a number of troubling aspects to this affair, the first being that Growden should name his anonymous snitch after P.G. Wodehouse's immortal creation, one of the best-loved characters in English literature.
Then there was the claim that Australian Rugby Union officials and their partners were "gobsmacked" by the ministerial carry-on which they found "right over the top".
Perhaps these delicate creatures should have stayed on the other side of the Tasman where politicians behave with a decorum and restraint befitting their positions and responsibilities.
Like former Labour leader Mark Latham who delivered this elegant and insightful critique of former PM John Howard's relationship with the US Government of George W. Bush.
"Howard has got his tongue up Bush's clacker that often the poor guy must think he's got an extra haemorrhoid."
Or former New South Wales opposition leader John Brogden who described the state premier's Malaysian-born wife as "a mail-order bride".
Or former Liberal MP Wilson "Ironbar" Tuckey, who earned his nickname by hitting an Aborigine with a length of steel cable. The Aborigine was allegedly pinned to the ground at the time.
Or Troy Buswell, West Australia's Shadow Minister for Seat Sniffing. During a drunken night in Parliament, Buswell sniffed a female staffer's chair while, according to her, "groaning and writhing in sexual pleasure". Despite this and other scrapes and scandals, Buswell is now WA's Minister for Transport and Housing.
Australians should count themselves lucky that they can still be shocked when their players are branded cheats. New Zealanders are virtually inured to it.
Rugby's equivalent of Groundhog Day is former Australian coach Bob Dwyer's annual bleat accusing the All Blacks, specifically Richie McCaw, of cheating.
Recently the Wallaby cheerleaders who masquerade as TV commentators over there took time off from bagging McCaw and the referees who don't penalise him at every breakdown to demand the banning of the haka. Why? Apparently it's cheating.
But the most perplexing aspect of the whole business was One News' coverage. It began by explicitly linking this storm in a thimble to the opening night chaos, labelling it "another World Cup headache for the Government". Then it was deliberately vague about the origin of the story in an attempt to inflate its credibility and substance.
Thus we heard that our Minister for Bad Manners was all over "the Australian media". Later it was narrowed down to "an Australian media report", later still the Sydney Morning Herald, as if that august organ had plastered the story across its front page.
It took Prime Minister John Key to point out that it was actually gossip column tittle tattle written by someone who wasn't there, based on what he'd heard from a source who dished his dirt from the cover of anonymity.
One's political editor described it as a "ministerial scandal" and interpreted Key's refusal to take it seriously as follows: "In other words, there's not enough evidence to send the minister to the sin-bin."
If One News was interested in evidence, it could have tracked down some eyewitnesses and asked them what actually happened, which is what Key did.
But rather than be bothered with Journalism 101, One chose not to let the facts get in the way of a beat-up.