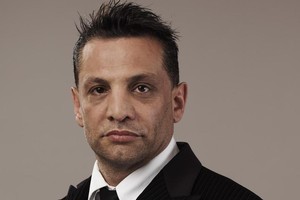 One of the tenets of good business is having an exit strategy. Terry Serepisos has enjoyed the good times, amassing a fortune that once had him among the country's wealthiest individuals, but he has become a victim of the bad and the time has come for him to relinquish control of the Wellington Phoenix.
He has clung on desperately as his empire has fallen around him and he steadfastly believes he will continue to own the Phoenix for some time yet. He might survive - and you can only admire his ability to endure this long under the weight of massive debt - but it's doing little for the prospects of a football club about to kick off a new season.
Serepisos' debts now total more than $200 million and, as much as he has said he won't let go of the Phoenix, it might be taken out of his hands. Football Federation Australia are expected to revoke his licence in the coming days if he can't prove he has money in the bank and hand it to a Wellington consortium made up of some of the city's wealthiest individuals.
Gareth Morgan, one of the Phoenix Five ready to take over the club, said Serepisos was "a real hero'' and needed "to be given every opportunity to see if he can do his Houdini [act] yet again''.
Not all of Houdini's acts ended well.
The FFA will take a dim view of the news Ricki Herbert is reportedly owed more than $100,000 in wages. It's one thing to have a supplier or tradesman out of pocket but it's a different matter when the club's coach is owed money and one of the requirements of the operating licence is to pay employees.
Herbert yesterday sidestepped the controversy, refusing to comment on the situation.
"The club will keep growing and get bigger and better. How that happens and what direction that goes, it's kind of out of my control.''
Despite his breezy public face, it's understood Herbert is privately upset, and not without justification. Why else would he engage his lawyer, former Supreme Court judge Bill Wilson, to act in this matter for him?
It would be a sad end for Serepisos if his beloved club was taken away from him. He was the white knight who rode in at the last minute to save professional football in New Zealand in 2007 but his horse has now bolted. It's time for him to do the honourable thing and let go of the Phoenix because he's doing the club more damage than good.
His legacy has already been established and football fans will always remember him with some fondness for what he has done to resurrect football in this country and help the All Whites qualify for last year's World Cup but that image is being damaged.
Someone once said that, if Serepisos was down to his last $10, he would spend $9 of it on the Phoenix. It is his passion but it is also something that stokes his ego, his need to be in the public eye. That is now, however, clouding his judgement.
The A-League off-season has been an extremely long one. Much like the Rugby World Cup, it has always been something in the distant future, but it's now the present. The Phoenix are due to kick off on October 9 and they don't yet have a full squad. They also have a skeleton staff with players being recruited as part of Herbert's coaching staff.
New owners need to time to get things in place to give the club the best chance of succeeding. Time is something Serepisos needs to give them because he's had his.

- APNZ