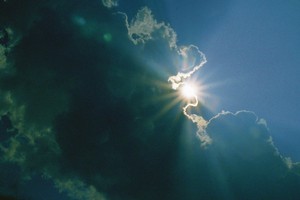 It's great when solar panels are used to produce power efficiently, but sometimes a little bit of pizazz doesn't go amiss in the world of sustainability. These tiles designed by Meidad Marzan, an industrial design student in Israel, harvest solar energy during the day and use it to create night-time OLED displays, and are a refreshing change from conventional billboards. They can also be rotated to face into the building and used as screens.
Conquering the skies one helium-filled airship at a time
Throughout history inventors have attempted in various ways to conquer the skies. The latest example is a helium-filled hybrid airship developed by a British company called Hybrid Air Vehicles. The company has secured a contract that will see them build air vehicles capable of lifting 50 tonnes.
Flexible transportation options
Want to be a cyclist and still retain some flexibility in your transportation options? The folding bicycle is a readily available and viable option; this design has simply taken the idea a step further. The Union bicycle makes the folded bicycle even more compact, in addition to improving the safety of its reflectors.