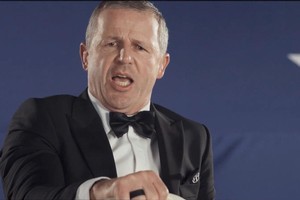 Now that the hilarious abstinence campaign is behind us, I encourage Kiwis to get things right in the bedroom as the evidence shows many of us have not been entirely honest when it comes to sex.
Controversial new research from Huntly suggests that the female orgasm could be a complete myth, a lie as old and bold as the Bible itself, or at least the New Testament.
Self-proclaimed sexologist Dr Logan Williams has been researching the phenomena for 13 years and claims that there is no such thing. And he goes as far as to say that any woman who tells you otherwise is either a liar, an attention seeker, deluded or a combination of the three. Few would argue that for years, in addition to trying to win a Rugby World Cup, men have had to suffer the pressure of trying to stimulate women.
But Williams believes his research will set men free from the burden of constantly trying to achieve the unachievable. This could radically change accepted bedroom procedures.
"If I am correct," said Williams, "men will be able, for the first time since this myth was conceived, to get the job done and move on without having to aimlessly pleasure a partner. There need be no hogging of the bedroom action."
For the record, Williams believes that winning a World Cup is achievable but when it comes to sport his opinion has never really counted for much.
The research involved recording the brain and body activity through monitors while subjects had intercourse with their partners, or with Williams himself. "I believe in taking a hands-on role during my research, and wouldn't ask my research team to do anything I wouldn't be prepared to do myself," he said.
Curiously, some of the female test subjects did appear to achieve an orgasmic state but Williams, who was never present at those times, said: "It is difficult for me to comment, as I wasn't personally involved with those test subjects, but the reaction they appeared to have can be explained in two ways: Most would simply have been faking it while the others who were more convincing may have been experiencing what I call an apparitional orgasm."
This is where the brain convinces the body it is doing something it isn't.
The inspiration behind Williams' controversial study came from the fact that in all four of his marriages, not one of his wives ever had full pleasure.
"I found this statistic extraordinary - it was right out of the zone of statistical probability - so once my last wife left me for my second wife I was free to investigate it further and set up my research centre here in Huntly."
Next year Williams hopes to investigate whether PMT, or premenstrual tension, is an actual condition. He may enlist the help of Alasdair Thompson, who used to be with the Employers and Manufacturers Association but who is currently looking for work.