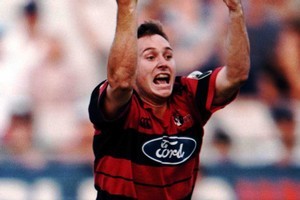 Inspired by the new series of Rocked the Nation on TV3 (Wednesday August 17, 8.30pm), which this time round covers New Zealand's 100 best sporting moments, here is my own personal top 10 list of Kiwi sporting gold.
10: ALL HAIL CHATS
Like me, the great Ewen Chatfield must have been scared of cricket balls after he was almost fatally sconed by an English fast bowler during the 1974/75 season. But do you think the fine bowler and No.11 batsman let this near-death experience get in the way of his unflinching stoicism at the batting crease? Not likely. His unbeaten 21 off 84 deliveries to help beat Pakistan in 1984 is legendary. CHATS, I SALUTE YOU.
9: HEAD BAGGING
One night out drinking after the 2006 Super 14 final, Tana Umaga (aka Brian O'Driscoll's best mate) got caught on camera in a bar, hitting Hurricanes team-mate Chris Masoe over the head with a woman's handbag. By the sounds, Masoe was stepping out of line.
Being the responsible senior player that he is, Umaga was just teaching him a lesson. The incident didn't stop the Dreaded Warrior from receiving a Queen's Birthday honour that year for services to rugby.
8: GO THE 'NAKI
My home province of Taranaki has never had a rugby heyday in my lifetime. They defended the Ranfurly Shield 28 times - during two separate reigns - in the late 50s/early 60s, and have been unpredictable ever since. But when the lads snatched the Log o' Wood from Auckland in 1996 I felt pangs of pride I'd never felt before for the Amber and Blacks. That is, until they lost it a few weeks later.
7: TOUR SHOT
This year's Tour de France was Kiwi cyclist Julian Dean's most successful, with his team Garmin-Cervelo winning the team trial and the overall teams classification. He's always been more than just a lead-out man and drink bottle-carrier, he is one of the true strongmen of the tour. Not even getting shot by a crazed cycling fan with an air rifle during the 2009 tour could stop him.
6: BRING THE BIFF
As a clean-cut 13-year-old rugby player, I always knew those league guys were rougher, tougher, and more scary. And the sideline brawl between Kevin Tamati and Greg Dowling in the Kiwis v Kangaroos 1985 test confirmed it. By the sounds, Kev had every right to lash out at lippy Dowling. My mum was disgusted. "Animals" was the word I think she used. I thought it was awesome.
5: EXCUSE ME, PADDLES
The great fast bowler Sir Richard Hadlee was fielding on the boundary at picturesque Pukekura Park in New Plymouth and us kids were hounding him for an autograph, to which he turned around and told us to go away in language that can not be repeated here. Maybe he was grumpy because he was bowling off his short run at that stage?
4: LIKE FATHER, LIKE SON
Back in the mid-90s, when it was still safe to hitchhike, I was waiting in Dannevirke on my way to Hawkes Bay. It was about to hose down and who should pick me up but the dad of All Black flanker Josh Kronfeld. He was very proud of his son, who was my favourite player at the time. While Josh was never quite a McCaw or a Jones, the way he stormed around the field was something to behold.
3: GOLDEN GIRL
Like New Zealand's very own Mary Lou Retton, young Nikki Jenkins vaulted her way to a Commonwealth gold medal in 1990, and put Kiwi gymnastics on the world map. Well, kind-of, because Commonwealth countries aren't that hot at gym. Safe to say though our Nikki was one of the first sportspeople I ever had a crush on.
2: WILD BOYS
Not content with being the most lethal bowling attack in the world, West Indian bowlers Michael Holding and Colin Croft brought the mean streets of Kingston to sleepy old New Zealand on the 1979/80 tour. First, Holding kicked over the stumps in protest at an umpiring decision, and then, also miffed by another decision, Croft went one better and elbowed umpire Fred Goodall as he ran in to bowl. As a cricket-mad 7-year-old accustomed to the gentlemanly approach of Geoff Howarth, I'd never seen anything like it. Heavy, man.
1: YOU LITTLE BIRDY
As unassuming as Andrew Mehrtens was, he always had a hint of the smart-arse about him. And he saved his cheekiest moment for one of the most hostile sporting stages of all. Playing the Bulls at Pretoria's Loftus Versfeld in 1999, Mehrtens slotted a drop-goal in jury time to give the Crusaders the win; then he turned and ran towards the crowd, beaming - and gave them the fingers. His gesture, apart from being hilarious, also gave a cheeky little "up you" to the often-snooty old-school rugby establishment. NICE ONE, MEHRTS.
- TimeOut