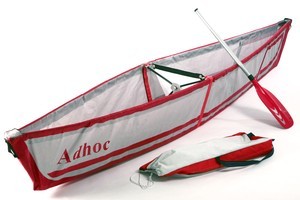 An Israeli designer, Ori Levin, has just made experiencing the great outdoors even easier with his design The Adhoc Folding Canoe. It will be perfect for anyone who wants to carry their travelling vessel on their back easily, and doesn't want it to take longer than 5 minutes to assemble!
Another innovative Israeli design is an injection mould plastic bicycle called Frii. So far, only a non-working full-scale prototype has been built but, on screen, the design has plenty of potential. The impetus behind the design is to build cheap, working bicycles from limited resources. In the case of the Frii, it will be built from recycled plastics injection moulded into pieces that lock together.
Alternatively, instead of clipping your bike together, this Australian design student has theorised a way of growing a bicycle.
Alexander Vittouris wants to take advantage of the natural processes in the environment to train bamboo to grow into a bicycle frame. This will reduce the energy output required by bending wood after it is harvested.