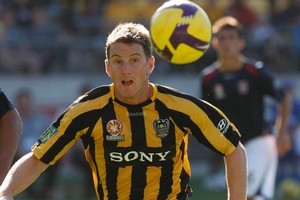 It is hard not to be slightly cynical about the Phoenix's recent appointment of striker Chris Greenacre as assistant coach.
The senior players at the A-League club are backing the move and it should be an easy transition, with Ricki Herbert bringing a known quantity on to his staff.
But the move is also financially expedient for the cash-strapped club. Greenacre will presumably get a pay rise but the franchise will not have to stump up a separate salary for an assistant coach.
For away trips, the Englishman can travel as part of the coaching staff, leaving an extra spot for another player. And, as part of the coaching staff, only half his salary counts towards the salary cap.
At best, the appointment is a brave experiment that may yet pay off. Greenacre has a 17-year professional career and plenty of knowledge to pass on. If he stays in this country long-term, he could develop into a coaching asset for New Zealand football in the same way Neil Emblen and Darren Bazeley are becoming.
However Herbert already has a lot on his plate - now he has a rookie offsider. Last year, Herbert could lean on Luciano Trani, who would run most of the training sessions and provide valuable tactical input on match days.
Trani had a huge database of information about opposing teams so each Phoenix player went into a game knowing as much as possible about their opponents.
It is a lot of slack for Greenacre to pick up, especially when he is also concentrating on staying fit and sharp.
It's expected Greenacre will run the front third, leaving Herbert to look after midfield and defence, analyse the opposition, study opponents, run training sessions, prepare tactics and game plans and assess possible transfer targets during the season.
And if Greenacre is on the field, Herbert will have no one to bounce ideas off during games.
Herbert loves his job and pours hours into it but the Wellington bench still looks thin. The Phoenix have Herbert, physiotherapist Wayne Roberts, strength and conditioning coach Lee Taylor, a yet to be appointed goalkeeping coach and Greenacre in a part-time capacity.
In contrast, Sydney have nine technical staff, while the Brisbane Roar have 10, including two assistant coaches, a goalkeeping coach, a club doctor and three sport scientists.
Sure, the picture is blurred somewhat, as the Australian franchises have more teams, but it also paints an ominous picture - rarely has success in professional sport come after cutting corners off the pitch.