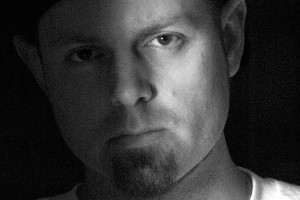 He could have turned up and played some records - or whatever they scratch and mash-up tunes on these days.
But DJ Shadow - the pioneering one-man hip-hop machine and beat freak from California - has taken inspiration from Lady Gaga it seems and tours with his own space-age looking sphere which he plays inside of, and beams images on to.
It has to be said, it looks a little hokey sitting there unlit and all on its lonesome, but the visuals transform it into a trippy and dizzying focal point for his Live from the Shadowsphere show.
It is a set of old, some new, and "things you've never heard before" - but perhaps not surprisingly the stands out are those tracks from his 1996 landmark album Endtroducing .... There's the simmering Building Steam With A Grain of Salt, the rolling thunder of Stem is given a happy clappy drum'n'bass work out, and then there's the big bopping beats of Organ Donor.
They are far from pure interpretations of the originals because what makes them better 15 years on are his drum'n'bass versions of these classic tracks, with the gorgeous vocal-driven Six Days off 2002's The Private Press also getting the knees-up treatment.
While the drum'n'bass obsession might sound a little old school, there's nothing quite like it for getting a room full of people swinging - and it's balanced out by trademark Shadow moments of big spacious beats and eerie ambient warmth.
He may take the mickey out of Gaga, and the likes of Susan Boyle and Simon Cowell, during Walkie Talkie, but the way he pops his hand out of the top of the sphere, and waves, is yet another Gagaesque moment. Or perhaps that's reading too much into it.
For a bloke who hasn't released much new material in recent years, with his last album in 2006, he still has pulling power with a near-full Powerstation turn out. Even he jokes that he "finally" has a new album coming out in September, and latest song I Gotta Rokk is a stealth mix of lunging and clattery beats.
And while there were some pastiche Robert Miles-meets-Enigma moments, and the techno-house-and-trance inflected encore was a little punishing on the mind, body and soul, Shadow showed he's more than just a DJ, he's an entertainer and the songs off Endtroducing ... especially remain timeless.