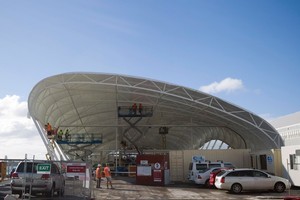 With three legacies of the Rugby World Cup already visible on Auckland wharves, the agency in charge of planning the public waterfront is wondering what to do with them.
It worries that the "Cloud" on Queens Wharf may compete with the distinctive exhibition centre erected at the Viaduct. And it fears that Shed 10, sharing Queens Wharf with the Cloud, will need a purpose besides a cruise terminal when no ships are in.
Waterfront Auckland chief executive John Dalzell says it would be no use Auckland keeping the prefabricated Cloud after the cup if the $32 million Viaduct Events Centre could not be filled.
As for Shed 10, he says, "there is only so much activity in terms of people wanting to use the space for markets, Melbourne Cup functions or exhibitions".
The agency should relax. Everything will be much clearer after the cup.
The public will decide the fate of these facilities. When crowds are on the waterfront during the cup they will gravitate to wherever the conditions appeal. There is really no predicting which, if any, of the new venues this might be.
Owners of restaurants and bars could tell the waterfront planners how unpredictable crowds can be. Entertainment precincts can have a multitude of attractive places, each doing its utmost to lure patrons, and the chances are one will be packed to the pavement and the rest practically deserted.
There is usually nothing in the visible character of the crowded place to suggest why it is singularly successful. It probably has had the good fortune to attract enough people soon after opening, and they have attracted more. Its name becomes known, it becomes a meeting point.
People will pack themselves in until they are standing in a crush having shouted conversations face to face in preference to sitting and talking where there is plenty of room in the bar next door.
It is a brave investor who would bank on a venue being "party central" but the Prime Minister probably had his tongue in his cheek. The best the Government could do was buy Queens Wharf, in partnership with local government, and make it available.
It needed shelter for a crowd in September-October. Sports Minister Murray McCully was not content with a refurbished cargo shed. The Cloud is his contribution and should not be written off on that account.
Though it is going to be given over to industrial exhibits during the cup, it could prove to be place to be. Its long undulating canopy is attractive, the spaces inside could be well designed.
If Auckland takes the Cloud to its heart, Mr McCully will leave it here. Waterfront Auckland's chairman, Bob Harvey, wants it on Queens Wharf for 15 years, more than enough time for something more grand to be designed. If it competes with the Viaduct Exhibition Centre, also with waves in its roof, so be it. People will decide which they prefer.
Shed 10 still looks the most likely crowd-puller of the three. New Zealanders are most likely to congregate in places that have a simple, rustic charm and where we go, visitors will probably follow.
By the time the cup is over, all or one or none of these waterfront spots will have won our lasting affection. Whatever their fate, it will be fun to find out.