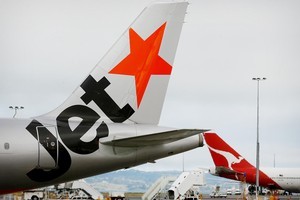 There has been a bit of controversy this week with news that a young man urinated in the aisle of a plane. This, of course, is not an ideal situation for anybody involved but "let he who is without sin cast the first stone", I say.
The young man has paid the price through public humiliation. Nobody will be feeling worse about this than him, and he will no doubt use those emotions to move forward and sort it out. So enough about all that, good luck to all involved. The story did, however, inspire me to think about how in-flight safety presentations might need to be adjusted.
"Welcome aboard this 737 700. Even if you are a frequent flyer and/or urinator, we ask that you pay full attention to this demonstration.
"On this 737 700, all toilets are marked clearly with lighted signs. But if in the unlikely event you find yourself urinating in an aisle, be sure to count the number of seats between where you are urinating and your allocated seat.
"There are toilets on this plane for your convenience so we encourage you to use them rather than setting your bladder to flight mode.
"Smoking in the toilets is strictly not permitted. Smoke-detectors have been fitted and heavy fines will be imposed should you be caught smoking in the toilets. Under federal aviation regulations, urinating in the aisles is also not allowed and urine-detectors have been installed throughout the plane.
"To fasten your seatbelt, insert the steel tab and gently pull the belt until it fits snug across your lap. We encourage you to keep your seatbelt fastened throughout the flight, however in the unlikely event you should find someone nearby urinating on you, gently unclasp your buckle, and move calmly to a non-urination row.
"If you are travelling with young children, deal with yourself first before assisting them. If they are very young, they will be more accustomed to being covered in urine and therefore less likely to panic.
"If you are in an aisle seat and sense that a stream of urine is coming at you from the side, simply bend over and clasp your ankles. This brace position will allow the flow of urine to pass you by.
"You will find your lifejacket underneath the seat in front of you. These jackets will have little use should we have a high-speed collision with the ocean but in the more likely event you find somebody urinating on you, the jacket may prevent some of the urine from contacting your clothing.
"Our flight attendants are trained and know what to do. They will be happy to take the urinator back to his or her seat and provide you with a complimentary bourbon and coke and a packet of nuts.
"You may experience an unusual smell, especially if a urinating passenger has ordered the chicken and asparagus pie for their meal. In this situation, an oxygen mask will drop down in front of you. Put the mask over your mouth and nose, adjust the straps and breath normally.
"In the event you get a stream of urine in your eyes, you may be blinded temporarily, so when boarding the aircraft it's important to count the number of rows to your nearest emergency exit.
"On landing, be careful when opening the overhead locker, as some items may have moved during the flight. Be careful when grabbing your bags from under the seat in front of you as they may be doused in urine, which is why you should put them in the overhead locker."
Finally, before we take off, take a look at your safety and urination card in the seat in front of you. Sit back and enjoy the flight."