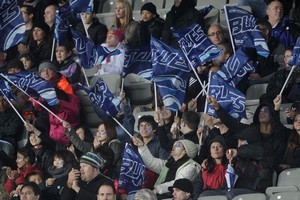 Rugby fans bleating about the $256 million redevelopment of Eden Park not being grand enough picked a bad weekend to raise their voices.
Friday night's turnout for one of the big local games of the year said it all.
If rugby can roll out only 16,000 spectators to a much-promoted Super rugby elimination play-off starring the local Blues, fans should be thanking the rest of us for our generosity in funding the existing upgrade, not whining about it being an "utter dog".
We're supposed to be concerned that the delicate flowers coming to the Rugby World Cup from overseas will melt if caught in a gentle Auckland spring shower, but I like to think the International Rugby Board has a sponsor in the wings for all occasions.
In this case, for a ready supply of plastic burqas or ponchos - in the team colours of your choice.
The critics seem to be pining for the fantasy stadium on the waterfront that former RWC Minister Trevor Mallard once dangled before our eyes. There was never any breakdown of the numbers, or who was going to pay, though estimates seemed to soar from $500 million to more than $1 billion.
Nor was there any mention of who would pay for its ongoing running expenses, or even who would use it once the month-long rugby circus left town. And that's the nub of it.
How much can a country of 4.4 million people, or a city of about 1.5 million, afford to spend on a white elephant that is going to be surplus to local requirements once its role as a venue for nine World Cup matches is over?
Auckland ratepayers have already underwritten a $40 million shortfall in rebuilding costs after the Government turned off the taxpayer tap at $190 million. Concerns remain about that $40 million and ongoing depreciation costs.
But because rugby is our national sport, and we desperately wanted to host the World Cup, there was widespread, if not total, agreement to spend what we had to in order to meet the conditions imposed by the world rugby bosses. And that's what we've done.
It's worth recalling that in May 2005, when then-New Zealand Rugby Union chairman Jack Hobbs announced the bid, he assured us that Eden Park would be a suitable venue once $20 million was spent on additional temporary seating above the western stand.
A few months later, the Eden Park trust board came up with a $45 million plan for temporary stands, and an alternative $100 million plan which involved replacing the south and southeast stands. Subsequently, the board went crazy and proposed a $385 million upgrade which was then trumped by Mr Mallard and his waterfront silliness.
The reality is that a 60,000-seater stadium - or even the 50,000-seater stadium that Eden Park will revert to once the temporary seating is removed - will be a big boy's toy totally surplus to requirements once the Cup is over. Fans don't turn out to sporting events like they once did, and for one obvious reason - television.
The international television moguls who pull the financial strings time games to suit their needs, not those of the local crowds. More importantly, with a big-screen TV selling for not much more than the price of a good Eden Park final's ticket, many fans sensibly prefer to watch the sport from the comforts of home.
The white elephant-stadium phenomenon is hardly unique to New Zealand. Indeed, we have been quite restrained compared with some nations. Although, as a minnow in size and population, we have every reason to be. Beijing, Delhi and South Africa are all home to recent world sporting venues that are now surplus to requirements with debts to be serviced. They're just the latest communities to succumb to "world finals" fever.
In 2006, Quebec residents finally paid off the mortgage on the stadium they built for the 1976 summer Olympics. By then it was nicknamed The Big Owe. It had cost them $2 billion overall, to say nothing of ongoing running losses of million of dollars a year.
Supporters of the Auckland waterfront-stadium proposal seem to believe that it would have attracted larger crowds than the Eden Park compromise. But the under-use of spectacular trophy stadiums in much larger cities than Auckland suggest this is not the case. It's not as though the Auckland stadium - whether at Eden Park or on the waterfront - is even the national venue for big games. The rest of the country wouldn't accept that.
In other words, apart from our brief moment of international fame this spring, fans will be rattling round an empty stadium.
If the rugby authorities don't want to lose those fans as well, especially on a rainy night, the solution seems simple: Readjust their seat-pricing policy so that everyone gets a seat under shelter.