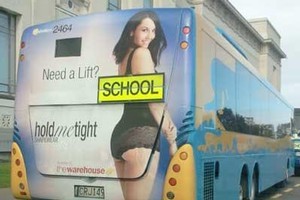 "Bus advertisers have featured numerous times in Sideswipe selling booze and sex on the back of school buses and still it keeps happening," declares a reader from Mt Albert.
Trump shares his secrets
Donald Trump has revealed the secrets behind his much-mocked hairstyle. Trump told a Rolling Stone magazine interviewer: "OK, what I do is, wash it with Head & Shoulders. I don't dry it, though. I let it dry by itself. It takes about an hour ... I then comb my hair. Yes, I do use a comb. Do I comb it forward? No, I don't comb it forward. I actually don't have a bad hairline ... I get a lot of credit for comb-overs. But it's not really a comb-over. It's sort of a little bit forward and back. I've combed it the same way for years. Same thing, every time."
Oh, the stress of it all
British workers spend an average of five hours every week stressed out - because of technology. Slow internet, computers crashing and the printer running out of ink or paper sees workers feeling harassed for an average of 56 minutes each day.
Busy cellphone networks, constant texts from your other half and even seeing unflattering pictures of yourself tagged on Facebook are also common triggers. More than one third said technology made their blood boil more than anything else during the working day. Four out of 10 of the 3000 adults polled said tech issues were more stressful than their love lives, domestic disputes and financial troubles. (Source: Newslite.tv)
Another pride and joy missing
Marc writes: "My sympathies to Geoffrey who got his Valiant stolen from Onehunga (I used to see the car parked there - nice car). Perhaps people could also keep a lookout for my'76 Ford Falcon 500 ( ID4119, metallic blue with tan vinyl top), stolen from Greenlane in March... Seems like someone might be making a business out of stealing people's pride and joys."