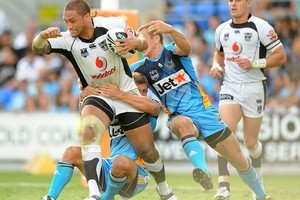 A lot of little things have added up to the Warriors recovering from a 0-3 start to win five of their last six matches. When the team was losing, key individuals were under-performing.
Brett Seymour, Lance Hohaia and Russell Packer, to name a few, all started the season badly. That made it very difficult for the side to stick to its gameplan and compete.
At the same time, newcomers Feleti Mateo, Krisnan Inu and Shaun Berrigan were also finding their feet. The team had no rhythm, no chemistry.
After last season's improvement, there was also some serious expectation on the Warriors coming into the season. That never seems to sit well with the Warriors. The players hate it.
In those early games they looked edgy, nervous. There was a fear factor there. They were scared to move the ball.
It looked like they had been told to play conservatively by their coach, but I think that was more down to the players than Ivan Cleary. They were suffocating under the pressure of expectation.
Times have changed.
Seymour has improved since returning from the Vulcans, Hohaia has put his bad start behind him and Packer has produced some fine performances lately.
Mateo has adopted a more defined role back in the second row and the benefits have been huge for him and the team. Inu provided real strikepower, particularly in the air, while Manu Vatuvei was out.
Confidence levels are way up. The team is flowing. All of a sudden it is a different ballgame.
The decision to put Simon Mannering in the centres to shore up the edge defence has worked extremely well. The team's kicking game has improved. A big part of that is the pressure the back three are now putting on the opposition defenders. They are contesting kicks and getting results.
Manu coming back will make that part of their game even more effective. It will interesting to see how Cleary manages things with key players coming back from injury.
Kevin Locke looked great at fullback against the Titans so it wouldn't surprise me if Hohaia ends up on the bench, coming on at hooker or in the halves when required.
Glen Fisiiahi will also complicate the picture when he returns. You don't want too much disruption when the team is going well, but having too many in-form players to fit into the team is a good problem to have.
Senior prop Sam Rapira's loss is a blow but its effect will be lessoned because Jacob Lillyman and Ben Matulino are playing very well. The depth is there to cover for injuries, which is a real positive.
Vatuvei's head-to-head battle with Akuila Uate should be a real feature of Sunday's match against the Knights.
After struggling against the speedy David Mead last week, Vatuvei will be out to prove himself, while Uate is always a dangerman for the Knights.
The Knights are a tough proposition. Since the Nathan Tinkler takeover they have made some big buys, including signing Wayne Bennett to coach next season.
They had been going through some down times but now it's like they've grown another leg. Newcastle has always been a tough place to go. It's going to get even tougher.