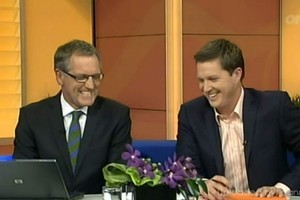 By any reasonable reading, Breakfast newsreader Peter Williams' remark about equestrian Mark Todd was not intended as a derogatory comment about homosexuals.
Williams made the off-the-cuff remark in reference to Todd's enormously impressive achievement in winning the Badminton Horse Trials for the fourth time at the age of 55.
A veteran sports journalist, he observed that some sports - golf and snooker were examples - depended less than others on cardiovascular fitness and that "Mark Todd's personal habits" included having "had the odd fag over the years".
Williams and co-presenter Corin Dann spent the next minute giggling at what was plainly an accidental double entendre: Britain's Sunday Mirror newspaper alleged in 2000 that Todd had snorted cocaine with a rent boy.
But GayNZ.com spokesman Jay Bennie objected to the use of a term "used to denigrate in every connotation".
Bennie, who reportedly had not bothered to see the coverage before passing judgment, works in a noble cause as a defender of gay rights, but his assertion betrays a dim grasp of etymology.
The word "fag" as a derogatory term for homosexuals is less than a century old; its application to cigarettes - initially "fag end" for the last remnant of a cigarette - goes back to the 16th century. Gay rights activists are on shaky ground in claiming ownership of the word so they can decry its use.
Any follower of equestrian sports knows that Todd has been an enthusiastic cigarette smoker - an Olympic champion with nicotine-stained fingers is a rare sight.
But Bennie's comment typifies our increasing predilection for finding offence where none was intended.
Lobby groups of all persuasions stridently object to careless but harmless terminology, as Blues lock Ali Williams found to his cost when he remarked that his teammates' encouragement on his comeback from injury made him feel "like a special-needs victim".
Deprecation and demonisation of minority groups can certainly threaten our social cohesion, and hate speech should be treated with the contempt it deserves.
But rubbing along together in an increasingly complicated world also calls for a sense of perspective. Looking for offence in every syllable uttered by others is in nobody's interest.