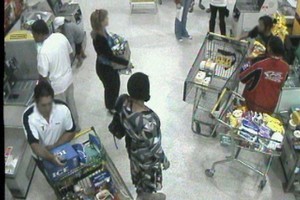 Not for nothing did Candid Camera screen on American television for more than 50 years. There is an enduring appeal when ordinary people are placed in unusual situations, many of which require them to either follow or flout well-founded standards of right and wrong.
The clash between temptation and moral principle is writ large. No TV programme, however, could quite match the scenario that greeted people who turned up at a Hamilton supermarket at 8am on Good Friday. A computer glitch incorrectly opened the doors and there was not a checkout person in sight.
The following 90 minutes provided a case study of the sort that ethics professors dream about. About half of the two dozen or so customers who entered the Pak 'n Save supermarket seem to have taken groceries and left without paying.
Others queued up to wait for the store's only available self-service machine, while the rest left when they realised something was amiss.
Subsequently, after publicity about the supermarket's gaffe and the presence of CCTV images, all but two of those who left without paying came forward to settle what they owed.
Noticeably, none of the shoppers effectively took the opportunity to loot the store. No one piled a trolley full of expensive goods before fleeing the scene.
The groceries taken by those who did not pay were of relatively minor value. Nonetheless, some people did choose to dispense with an ethical compass. Somehow they found a way to justify their action to themselves.
Some probably convinced themselves the supermarket was at fault for making such a stupid mistake. Others would have seen good fortune smiling on them and thought it silly not to take advantage.
Among this group may have been those whose own financial circumstances were poor. They would have compared their own situation to that of a profitable supermarket. Theft is always less problematic if it is from a faceless company, rather than an individual.
In poorer countries, this mindset leads to the mass looting of stores when natural disasters provide the chance. Likewise, people who consider themselves underpaid have been shown to have a greater willingness to steal from their employer.
Yet while a person's circumstances may create a greater temptation, society's ethical norms dictate that no excuse for theft can ever be valid.
Perhaps the only exception may be those in areas isolated by an earthquake, flood or suchlike who help themselves and others by taking medical supplies and food. Even then, however, they owe a debt of repayment in some shape or form.
Recognising this, some of those who succumbed clearly thought better of their thieving and returned to settle up. In effect, they acknowledged they had made a mistake and were prepared to fix it.
The supermarket, quite astutely, provided a ready path for those feeling remorse. It set aside a week for payments to be settled. After that, it said, CCTV images of those who had not paid would be forwarded to the police. By yesterday, it saw no need for police involvement.
But the niceties of establishing intent and identity in a court of law would certainly not have been uppermost in the minds of those who decided to set aside moral principle. For two, however, there remains the prospect of the blush of shame that afflicted many when they were advised, "Smile, you're on Candid Camera".