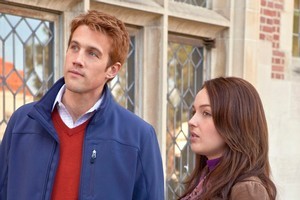 I shall adopt the royal name Lady Violet Cushla-Runciman of Meadowbank, a nod to my early-settler heritage.
Parading a Kiwi through the streets of Britain and naming him Prince William might seem a bit sacrilegious. As might dressing an American in a skanky outfit and calling her his fiancee, Kate.
The Daily Mail has now quite famously quoted a Twitter user as saying the telemovie William and Kate (which screens Saturday evening on TV One here) was "the most excruciating and awful thing that mankind has ever created".
But I'm with the actors, who say it's all about getting people into the spirit. A spirit borne not out of swiping one's credit card at Christmas, or gorging oneself on buns and chocolate at Easter or egging the neighbours at Halloween, but the spirit of royal love.
Certainly, it's the first time in my lifetime that I have been able to partake in such a royal hurrah. And by golly, I am letting the waves of coverage, of cakes and dresses and invitations and terrorism threats and royal carriages and hen's parties and royal waves from balconies sweep me up in their furore.
See, my generation has known only of royal divorce, death and diets. We garner bits of this and that from films like The King's Speech and Helen Mirren's The Queen and if we choose, we study the Tudor-Stuarts at high school.
But we don't sing God Save the Queen. We don't buy copies of Hello! to get the latest on Princess Anne. Personally, until a few months ago, I wouldn't have given a toss if it was a royal's face on my 20c coin or Hone Heke's.
But now, all of a sudden, I can understand why grandparents own crockery commemorating the royal nuptials of July 29, 1981. I am rather tempted to order a set of my own.
I'm also heading out shortly to see if I can get my hands on the the paper dolls set a friend found, which invites you to cut out 2D figures of Kate and Wills wearing nothing but their smalls and dress them in various outfits - from sportswear to posh-meet-the-parents garb. Tacky, maybe; fun, of course.
This evening, I will be gathering up all the nice plates I received for my 21st birthday and borrowing a few tiered cake stands and perfecting my outfit for the royal high tea my colleagues and I are hosting tomorrow afternoon (I'll be at the comedy festival when they walk down the aisle but will watch re-runs).
An excuse to play ladies and gentlemen and eat all those treats from the motherland that fall into the nana-chic category: scones, cucumber sandwiches and Louise cake. I shall adopt the royal name Lady Violet Cushla-Runciman of Meadowbank, a nod to my early-settler heritage.
It's not that I want to be Kate. I don't want to own corgis and kiss my husband in front of millions of minions from my balcony but, like much of the Western world it seems, I want to own my piece of the royal love story.
And I want to have cake and eat it too.
* The Royal Wedding screens on TV One and TV3 from 7.30pm. For the One Special, Wendy Petrie will host coverage from inside Westminster Abbey until 10pm at which point the official commentary, provided by the BBC, takes over to run until 12.40am. John Campbell hosts TV3's coverage until 10pm, at which point ITV's live coverage will take over and run until 12.30am.