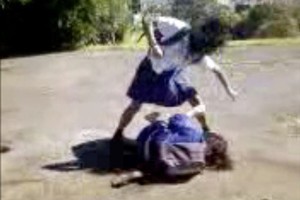 Cellphone cameras and the internet have given the world some graphic examples of children's violence lately. One occurred in New Zealand.
Video images of a 15-year-old Wanganui schoolgirl being kicked to unconsciousness by another girl in her class, have moved the Prime Minister to have all schools review their attitude to bullying.
"I worry about bullying," he said, "I worry about youngsters going to school and being intimidated ..." His concern sounds genuine, not driven by an opinion poll. If schools find it a little galling that he thinks they need this reminder, they should make the best of it.
They may have given a great deal of attention to bullying in its various forms, and devised carefully considered policies to guide their response to it, but this is their opportunity to assess whether the policy is working and give further thought to alternatives.
John Key's worry is echoed by every parent of a school age child. Not every parent of a bullied child knows about it, which is a mercy. The knowledge that they were sending a child into a place where he or she was routinely teased, assaulted and terrified is more than a parent can bear.
When a parent discovers it is happening, schools need to deal with it quickly and effectively. If they do not - and parents generally realise they will not - they cannot blame parents for encouraging the child to retaliate in kind.
No doubt Mr Key will hear from all school boards that they have a policy of "zero tolerance" but he will discover that what schools mean by zero tolerance is quite different from the ordinary meaning of the term.
The girl in the vicious incident at Wanganui was expelled, but this appears to be unusual. "Zero tolerance" can mean counselling bullies and their victims to find out their needs.
Bullies, as every child is told, are trying to hide their own deficiencies. They need to make somebody's life a misery to establish their status to themselves or to impress a few equally deficient companions.
There are bullies in business, employment and most branches of life, but adults are more capable of dealing with them if they have to, and avoiding them if they do not. Child victims need help.
Parents often counsel their children to stand up to a bully, knowing the cowardice that underlies any assault on somebody smaller or disinclined to retaliate. Schools do not condone that solution. They operate on the principle that two wrongs cannot make a right, particularly where violence is involved.
By "zero tolerance" of bullying, they really mean zero tolerance of violence. Their proscription of physical retaliation is probably not only principled but pragmatic from their point of view. Once both sides have been violent the distinction between bully and victim becomes less clear. From the victim's point of view, though, retaliation does work - usually the first time.
Mr Key wants a "national conversation" on this subject, and it has already started. The violence depicted on recent web posts may be extreme, and exceeded these days by less physical but equally dangerous text bullying, yet it has highlighted behaviour that should not be tolerated anywhere.
There is probably not much schools can do short of expulsion, which may simply send a bully to another school. The expelling school has already failed to give the culprit an environment that makes him or her feel sufficiently dignified to respect the rights of others.
Perhaps a different environment will do better. If nothing else, the shock of expulsion might cause the bully to behave better in new company.
But the bully's welfare is of less concern than the victim's. School boards need to make that clear.