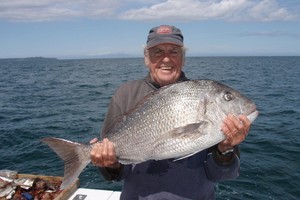 These days he is called the Moon Man, but Ken Ring does far more than talk about earthquakes and predict when they are likely to hit. He mainly talks about the weather, and makes a living out of such forecasts. And, as with the scientific community which discounts his quake comments, the official weather people don't seem to have much time for his weather utterances.
But Ring also predicts when the fish will bite. And as there is no Fish Bite Predicting Department, there are no officials to jump on his ideas. More than a few fishermen swear by them.
The fishing calendar is based on the influence of the moon in two respects - its position, which affects feeding times, and its phase, which affects activity. When fish are more active, you are more likely to catch them.
The best known example is the Maori fishing calendar, which predicts good and bad fishing days and bite times. The problem for punters is there are several different versions.
An American called Richard Alden Knight came up with what he calls the Solunar Tables, which is yet another version. His forecasts are available in booklet form from Oceanfun Publishing, based in Blenheim. These have been adapted to our part of the world, and work on the basis there is a major and a minor feeding period in every 24-hour cycle. It works on the same principle as the Maori fishing calendar.
It is well known animals and fish are more active at dawn and dusk, but they could also be feeding at any time of the day or night. One example we often use is to look at sheep and cattle in the countryside. Sometimes they are all sitting around, usually under a tree if it is a hot day, and at other times they are all on their feet eating grass. It could be any time of day. That is an example of a feeding period.
It can last from 20 minutes to an hour, depending on other factors like tides and weather.
One angler who swears by Ring's bite times for fishing is South Auckland's John Moran, who has been catching fish successfully for more than 60 years and he believes Ring is accurate with his forecasts for bite times. John is a respected angling writer, commentator and organiser of fishing contests, and his word carries weight.
"Over many years of fishing I have become quite disillusioned with various so-called Maori fishing calendars," said John. "None of them lined up or agreed with each other so I finally tended to just ignore them. I have kept a very precise fishing diary all my fishing life, with particular emphasis on when the fish began actively feeding, and for how long.
"When Ken Ring began to publish his fishing predictions in NZ Fishing World magazine, I thought 'here we go again', until I started to compare his bite time predictions with what actually happened on the given day. He was always pretty close to the button, so I used to always note his predictions and be over a pet fishing spot when I was fishing from then on. Well, the months turned into years and over this time I became totally awestruck over the accuracy of Ken Ring's predictions. This page of Ken's in the magazine became my fishing bible. His predictions were rarely wrong and if they ever were there was usually a sign of nature to explain why, like a storm.
"One day I took Trish Rae (the Option4 lady) and her partner fishing. Two hours' fishing yielded next to nothing and I looked at my watch and told Trish that we had to endure only a half hour more of inactivity, as Ken's bite time would then kick in.
"When the magic time arrived so did the fish and Trish had the hottest gurnard fishing she has ever experienced - 45 gurnard in an hour and a half with three rods.
"I still use Ken's bite time predictions and I will continue to do so for as long as I have the strength to hold a rod. The man is a bloody marvel!"
It is universally accepted the position and phase of the moon influences tides through magnetic pull and the oceans slosh around like a big jelly. Ring believes the molten core of the Earth is affected in a similar way and so puts pressure on the tectonic plates, resulting in increased likelihood of earthquakes.
For the record, today is rated an excellent day for fishing and the bite times are at noon (best) and 6pm (minor). Ring's forecasts for weather, bite times and best fishing days can be found in every issue of NZ Fishing World.