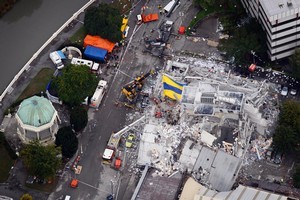 In the wake of the earthquake, some bank economists have called on the Reserve Bank to cut the official cash rate (OCR) to help revive an economy in crisis.
Economists at ANZ New Zealand, the country's biggest bank, have called for an emergency cut of up to 50 basis points to 2.5 per cent. So have ASB's economists, who argued inflation pressures were light and credit growth was weak. Westpac also sees a good chance of a cut on March 10 when the Reserve Bank releases its monetary policy statement.
BNZ is the only bank to say a cut is not justified, saying it was a blunt instrument.
The assumption is the banks would pass on such an OCR cut to their customers. However, there is the politically explosive risk the banks would not pass on all of it. In Australia last year, the parents of these banks added extra interest rate hikes to the one made by the Reserve Bank, sparking a political storm. It seems unthinkable the banks would not pass on cuts in the OCR here after the earthquake.
During the past year, banks have quietly been lifting their profit margins by sitting still as the market has changed around them.
PricewaterhouseCoopers reported this month in the second half of the financial year to last September the big five banks (ASB, ANZ, BNZ, Westpac and Kiwibank) increased their net interest margin by 8 basis points on average, or 9 per cent.
That amounts to an extra $300 million profit in six months to $3.3 billion. This was largely possible because most of the banks' customers are moving from fixed to floating mortgages, where profit margins are higher.
To be fair, banks' fee incomes from transactions have fallen about $165 million . But that's less than half of the increase from net interest margins.
One way for banks to help boost the economy would be to give back the profit growth they have experienced over the past year, including Kiwibank. That might spark some activity and help stressed consumers.
A cut in their floating mortgage rates of about 10 basis points would do the trick.