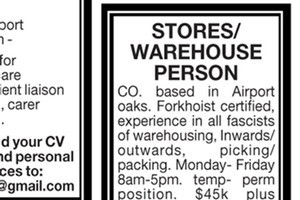 Cheap if you don't want the extras
In response to Air NZ's pricing system (and that of most other airlines), Allan Weeks has decided to copy its business model and open a new restaurant. "I will offer the best prices, on the best product available. Here is a sample of the new menu.
Eye fillet steak: $4.50
Best South Island salmon: $3.50
Mouth Watering NZ lamb cutlets: $2.50
* Extras if required.
Plate: $28.00. Knife and fork can be hired for $32 per hour (each). Get the 'Works' - which includes a table and chair - for only $104.32. (A surcharge of 3 per cent applies if you want your meal cooked).
We are open from 11pm to 5am. So go ahead - spoil yourself with the best food deal in town!"
****
Bitten savagely by vet's bill
Greg Lawson says airlines aren't the only ones with hidden costs. "Try vets. The drugs are one issue, but it's the deceptive charging that rankles. Ours starts with a 'consultation fee' of $55. Then, if it's a couple of pups, say, there's an 'examination fee' of $7.50 each. And finally, an 'injection fee' of $8.70 each. So, what is the 'consultation fee' for if it's not including the actual 'job' bits? We had a hip operation done on a dog - $800 for the operation, and one and a half pages of add-ons = $2200 in total. That included 'prep of theatre' and 'use of theatre'. Hello?"
****
Can't have cake and eat it too
Mouthwatering? A 113-year-old wedding cake has gone on display at a museum in England. The four-tier cake was originally displayed in a family bakery until it closed in 1964, then kept in an attic before being donated to the Willis Museum in Basingstoke. Tests with a syringe have shown the rich fruit cake inside the ornate icing is still moist - although not edible.
****
That's entertainment ... sort of
Several readers wrote to say the Entertainment Book comes with a reminder that it cannot be used on Christmas, Mothers and Valentine's days, among others. "I don't blame them. Why take a booking you will lose 25 per cent on when there are possibly loads of people who'd be happy to pay full price," wrote one reader particularly lacking in romance. Brian McGinn, national merchant services manager of Entertainment Publications, says: "There are nine days within the 12-month validity of the Auckland Entertainment Book where it is optional for restaurants to accept Entertainment Cards / vouchers. Valentine's Day is one of these optional days. Two weeks prior to any of these days we communicate via email and our website, a number of restaurants that are happy to accept cards / vouchers on these days."