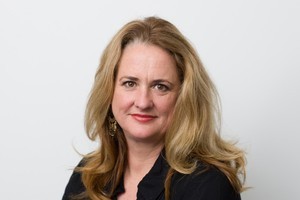 It's not often I let my husband fly solo, but when it came to the garage sale, it was the only way to go.
"I'm having nothing to do with it," I announced. "It's your project. You go off and do it, I'll be upstairs and I might make you something nice for lunch."
"But what about all your stuff downstairs?" he asked. "Don't you want to sort it out? There might be precious things you want to keep."
"If it is downstairs," I said very slowly, "then obviously I don't want it."
"Your loss," he replied as he took off down the front steps and into our basement which, until the garage sale, housed detritus left by four grown-up children, including a pool table, a broken piano and several hundred soft toys.
I am reliably informed that he managed to fill the entire grass verge outside our house with stuff. Meanwhile I pottered around the house pretending it was just a normal Saturday morning and there were no strangers picking over my old belongings on the grass verge.
"You might want to take the stuff out of this," he said, plonking a vintage leather handbag on the table.
I held my breath. I nearly cried. It was my precious handbag. The one given to me by a dear friend. The one that belonged to her mother. The one I would never be parted from.
"I can't believe I nearly lost you," I whispered as I opened its sturdy silver clasp to look inside.
And there was a time capsule for my life 13 years earlier. Swatches of cream and brown silk circa 1997 peered up at me, attached to a handwritten quote from designer Liz Mitchell for my wedding dress and our two daughters' bridesmaid dresses.
"Gosh," I sniffed. "Must have been earning the big bucks then!"
Which is when I found a payslip from the New Zealand Woman's Weekly and took five minutes to work out that it was monthly, not fortnightly. Obviously not.
A fax from "Simply the Breast - Getting off to a good start" appeared next to it, giving me details of classes with an emphasis on breastfeeding and the working mother.
A baby bootie pattern written in old lady writing on flowery notepaper was next.
"These can be made bigger by using four-ply or double-knit wool," it advised.
A letter from New Zealand Magazines marked private and confidential: "Confirming our discussions you will leave November 21, 1997," was all it said and was signed by my boss. No "sorry to see you go", no "nice working with you".
"Mmm," I said, remembering with a shudder.
A scrap of paper with the hastily scribbled note: "Relations used to work in the Palace - anti-royalist," followed by a name and phone number.
Several receipts emerged for restaurants which no longer exist: Provence, The Dish, Calabria and one that does, SPQR.
Two return airline tickets to Paris leaving on October 5 and a receipt for traveller's cheques.
"How quaint - taking traveller's cheques on your honeymoon," I said.
A letter from a wedding planner wondering if I was intending to hire her or had cancelled the wedding.
A receipt which had drawings on the back executed by a child with instructions: "Look at this!"
And, finally, an old tissue and a recipe for angel hair pasta with raw tuna and rocket.
"Never made that," I reflected, before scooping everything up and putting it all carefully back in the handbag.
Then it dawned on me. Along with my precious handbag were other such handbags just as precious - and all little time capsules of my life.
Somewhere out there was the vintage Jean-Paul Gaultier one I'd bought on my honeymoon that took me through the birth of my daughter. Then there was the cheap one I bought in Sydney which I picked up in 2000 and left off halfway through.
I thundered down the steps and on to the grass verge. There was no one to be found. But there was a sign.
"Everything $1, leave money in the letterbox."
The garage sale had lasted two hours and there wasn't a handbag in sight. No baby dummies, or restaurant receipts, lipsticks or stray earrings tucked safely inside.
"My loss," I mumbled, as my husband and two huge guys stumbled past with the pool table.
"$50!" said the man with all the bargains.