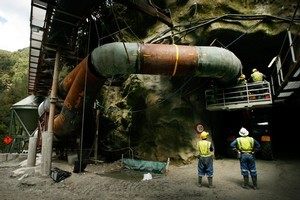 The name Pike River will now forever be a disaster in New Zealand's memory. It was probably a disaster for 29 miners and their loved ones five days before a second explosion yesterday.
May it be a comfort to their families to realise that if any of the men survived the first blast last Friday, they probably succumbed to carbon monoxide a short time later.
In hindsight it might have been kinder had the leading officials said so last weekend when none of the 29 working deep in the mine had managed to follow two, who were more fortunately placed, to safety.
Seismic sensors had detected no sounds in the mine since Friday, pictures from a fresh air chamber showed no sign that anyone had sought refuge there after the explosion.
These things the officials reported but like the families and watching public, they clung to hope. None more so than the chief executive of Pike River Coal, Peter Whittall, whose communication with the public, and probably the families, in the days since the first explosion has been impeccable.
Mr Whittall will have to answer many more questions about this disaster in the months and years ahead but his humanity this week has been conspicuous.
Televised news conferences have enabled the public to follow announcements first hand.
The demeanour of the district police commander, Gary Knowles, and New Zealand Mines Rescue general manager Trevor Watts did not always inspire confidence but their refusal to send search teams into the mine has been vindicated.
They had to stand up to mounting frustration day by day and repeat that it simply would not be safe to attempt a rescue.
Heroics would probably have been futile and could possibly have triggered another explosion, as something did yesterday. Heroism is an elusive quality at the best of times.
The comparisons with the more than 400 New York firefighters and police who died in the Twin Towers is apt, though not in the way it was put to Mr Knowles yesterday.
They entered the burning towers with no reason to fear their collapse. In the same circumstances today, they assuredly would be more wary.
The helplessness of mine rescue operations after an explosion is surprising in the 21st century, as indeed is an explosion that appears to have been caused by a build-up of methane gas.
Technology evidently has not overcome one of coal mining's most familiar risks, nor has it devised a way to clear gas quickly from underground tunnels and get assistance to survivors.
Questions may remain about whether everything that could be done was done in the aftermath of the initial explosion but the blast yesterday gives the decision-makers the benefit of any doubt.
Many more difficult questions will be asked about the wisdom, design and management of the very recent Pike River project. It appears to have been dogged by difficulties and delays from its inception.
Inquiries are certain to be intense. The temptation to exploit the tragedy for political purposes will arise. This was a mine in a national park. How much did environmental considerations influence its design and operations?
Pike River is a disaster for the miners and their families, for the company and possibly for the West Coast. The mine was a valuable contributor to the Coast's economy, but it is a resilient community.
It has survived a fearful toll of disaster to live on the wealth of its coal. Brunner, Dobson, Strongman, all names that are now monuments to men who knew the risks of their hard work underground and faced them with courage.
They have been joined by 29 whose names we learned this week while we waited in hope. We owe it to them now to find out exactly what happened and how it might be prevented. The lessons of the Pike River disaster are just beginning.