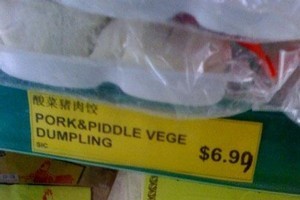 Spotted this at the Tai Ping supermarket on Dominion Rd. "The family do quite like dumplings ... but we're not this adventurous," says Steven Walsh.
Bad behaviour at car wash
"Shame on you Car Fe Greenlane," declares a hopping-mad customer. "As I was leaving your premises I noticed all the gold coins in the ashtray were missing, about $30 worth. Several phone calls over several days were fobbed off with the response a manager would ring me. A few weeks later my husband was told the coins would have been vacuumed up. How come all the lighter silver coins were left behind then? Oh, and thanks for changing the radio station and leaving it on the highest volume."
Hotel 'service' rip-offs
Rip-off NZ: Michael recently stayed at two hotels, one in the north and one in the south. "First hotel wanted $15 for a load of washing ($6 wash, $6 dry, $3 powder). Second hotel was selling a NZ house red wine for $17.50 per glass. There are 8 standard glasses of wine in a bottle, which works out at $140 per bottle for an $18 wine."
Don't blame the messenger
Raewyn Kilgour, from the Heritage, Rotorua says it's the internet providers who set the rates. "They do provide a few different pricing options, but overall it is very expensive and guests complain."