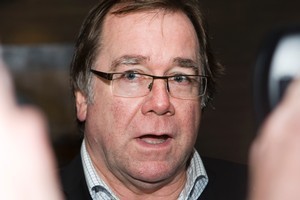 The scenario is not hard to imagine. Rugby World Cup Minister Murray McCully is hosting the International Rugby Board at one of the Viaduct Harbour's most upmarket restaurants to celebrate the official launch of World Cup ticket sales.
These grandees are accustomed to the very best. Not for no reason were their meetings held in London's exclusive East India Club for many years. Why, in the words of a spokesman for Mr McCully, would you not use this occasion to showcase the "best" New Zealand has to offer?
The cost to the taxpayer might be one reason. The latest release of ministerial credit-card spending records shows Mr McCully spent $2855 wining and dining his 14 IRB guests.
Included in the bill were four bottles of Ata Rangi pinot noir '06 for an eye-popping $740, or $185 each. Judith Tizard, the former Consumer Affairs Minister, must be mortified.
Her attempt to impress, a bottle of Bollinger Brut champagne while dining with Australian ministers at an Auckland harbourside restaurant, was a mere $155. Paying no attention to the cost had, she said by way of explanation, been a matter of national pride.
Ministers are expected to entertain dignitaries. When they are overseas, especially, their spending on food and liquor can be substantial. At a pinch, it might even extend to paying $185 for a bottle of wine.
But in New Zealand, where very fine wine sells for very much less? Mr McCully's decision to choose from the very top end of the wine list says as much about the character of Kiwi politics as anything else.
Would the members of the IRB have been equally happy to be served a somewhat less expensive but, nonetheless, excellent New Zealand wine? Probably.
Would national pride have been dented? Probably not. Would the long-suffering taxpayer have been happier? Certainly.