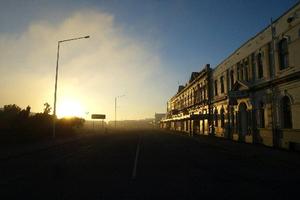 A brief period of settled weather is on the way for New Zealand thanks to a high drifting in from the Tasman Sea - continuing the unusually mild conditions over the North Island.
While overnight lows should take a dip under the lighter winds and clearer skies the daytime highs should still remain fairly mild, in the mid to upper teens for many areas.
Considering we're now entering the second month of winter this is quite amazing. So why has it been so warm lately?
Well, firstly, not everyone has had it warm. Alexandra has endured highs of just zero or one lately... meanwhile Queenstown was at -2 at 12 noon the other day and this morning it was -5 in parts of Central Otago at 8:30am.
But the North Island is certainly mild, especially north of Manawatu/Wairarapa, where weather patterns have been more like Autumn or Spring.
Winds from the west have prevailed, along with lows in the Tasman and plenty of humid air brought down from the north. Highs have often reached the mid teens for the past couple of weeks.
The reason for the warmer weather is actually in relation to the bitterly cold weather in the south. The cold weather in Southland and Otago has been due to high air pressure holding firm over the area for the past seven to 10 days. These highs have acted like a giant barrier stopping the bitterly cold southerlies from blasting up the nation from Antarctica and the Southern Ocean.
In fact, we're now heading into July and still we haven't seen a widespread serious wintry outbreak. We need these highs over southern New Zealand to move away - along with the highs over the Tasman Sea - to allow a low surging up near Tasmania and dragging in a cold southerly flow behind it before we really see any wintry action.
So is that in the forecast? No - not at this stage. In fact, July should continue as June ended - with lows in the North Island and highs in the South Island. The tame winter weather continues for now. It's a good thing for many of us... it means our power bills may be a bit down on last year...which will help absorb the ETS tax that now kicks in.