Endless negotiations seem to have had less impact on whaling than direct action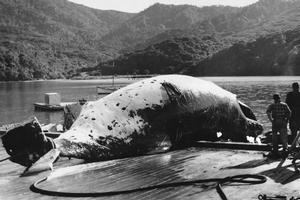 Any day now, details of the compromise deal being negotiated between the three whaling nations - Japan, Norway and Iceland - and the International Whaling Commission should be released.
Earlier reports suggest the three countries are willing to cut their annual harvest for the next 10 years in half, resulting in the saving of around 5000 whales.
The compromise is an attempt by a group of IWC members, including New Zealand and the United States, to halt the slow erosion of the 1986 international moratorium on commercial whaling.
Despite the moratorium, the number of whales killed annually has been rising, from 300 in 1990 to 1700 last year.
Not surprisingly, the chairman of the negotiating team, Sir Geoffrey Palmer, has not had a very sympathetic hearing back home in New Zealand where saving whales occupies the same sort of emotional territory as being anti-nuclear.
Particularly so when the buccaneers of the Sea Shepherd Conservation Society have shown there is another way to cut the catch in half.
This month Sea Shepherd was proclaiming that its Southern Ocean Whales Sanctuary campaign, dubbed Operation Waltzing Matilda, had been a spectacular success, and it was.
The whalers had sailed from Japan with a permit from their government to kill 935 protected minke whales, 50 fin whales and 50 humpbacks for scientific purposes. A total of 1035.
Harassment by the Sea Shepherd boats meant no humpbacks were killed, only one fin was caught and 506 minke whales. In total 528 were "saved" which, it could be argued, is better than the 50 per cent offered in the IWC compromise.
Meanwhile, in the North Sea, the group "Agenda 21", which the Sea Shepherd website refers to as a spin-off from their organisation, was equally busy sabotaging a Norwegian whaler.
They declared "Norway announced an increased quota of minke whales so we decided to increase our quota of sunken whalers". On April 2, saboteurs opened valves in the whaler Sofie, but the boat was rescued before it sank.
A year ago, the whaler Skarbakk was sunk at its moorings.
Whatever we might think of the Sea Shepherd's methods, their direct action tactics seem to have been more effective than 25 years of moratoriums.
Indeed, the Boy's Own derring-do of activists like Peter Bethune, now rotting somewhere in a Japanese prison, has its parallels in the risks taken by the old whalers of yore.
I've been reading The Cruise of the Cachalot by Frank Bullen, a best-seller first published in 1899. It's a ripping yarn of Bullen's account of his years hunting whales around the world, including the New Zealand coast.
He tells of harpooning whales from 4m-long row boats, of the exhilaration of being towed at speed by a harpooned whale, of the little boats being smashed to match-wood.
However much we now disapprove of their "industry", these were brave men, and so were Peter Bethune and his crew, in taking on the Japanese whalers in the freezing southern seas.
Bullen also reminds us that it was Britain and its colonies, North America and later Australia and New Zealand, that set the example for whale massacre that no one will ever match.
In 1690, colonists on America's Atlantic coast "established the systematic pursuit of the cachalot [sperm whale] which has thriven so wonderfully ever since ..."
It took a century to clean out the Atlantic fishery, so in 1788 the first British whaler ventured around Cape Horn. The favourite fishery, ironically, was known as the "Coast of Japan" from which the annual catch was 40,000 barrels of oil - "the average price of 8 pounds a barrel".
It's a reminder that like global warming, it's hard for Western countries to take the high moral ground and start lecturing others on the need to stop despoiling the planet.
Even accusations against Japan of buying the votes within IWC of small countries with offers of aid can be matched by the other side. We started it.
One report says China joined the organisation only after the World Wildlife Fund donated US$1 million to a panda reserve.
And Israel, which hasn't shown any interest in whales since Jonah had his unfortunate encounter with one, recently joined at the behest of the United States, and has voted accordingly since.
The proposed deal now being discussed is seen as providing a breather to give time to write a new treaty banning commercial whaling. It would cut the present catch by roughly half.
No new countries would be permitted to take whales, whale watching ships would be monitored and all international trade in whale products would be banned. It would be nice to think it's going to work.
But only last month, representatives at the Convention of International Trade in Endangered Species failed to agree on any measure to protect the endangered Atlantic bluefin tuna.
The southern bluefin tuna is also under threat, with Greenpeace attacking the New Zealand Government for upping the fishing quota. Indeed, any fish species you care to name is at risk.
Makes you want a worldwide convention on protecting the future of all fish species, not just whales.
But if saving whales is anything to go by, that isn't going to happen any time soon.