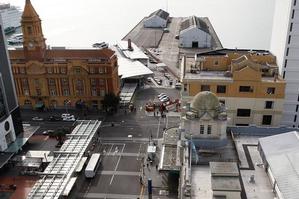 According to the NZ Herald on Friday, it is "Decision Time" down on the waterfront.
The debate, of course, is about what sort of development should take place in respect to next year's Rugby World Cup.
And, of course, there are a number of options available: the most expensive option, coming in at $97 million, is a proposal that includes a cruise ship terminal, while the cheapest option, coming in at just $23.9 million, is a temporary, half-baked, Cup Village-type scenario.
Apparently this scenario - much like the Auckland Harbour Bridge - can include a clip-on at a later date if they suddenly realise they didn't make it big enough first time around.
Once we decide what option to go with, we need to find somebody to build it. As this reporter has found out, a few "new" players are throwing the cats among the pigeons and tendering for the work.
Gary Swede, a part-time builder/handyman, is one such contractor. He believes his experience ensures he can build a World Cup venue far cheaper than any other contractor.
Swede believes what separates him from all the big players is that he is prepared to do "cashies" for a lot of the work.
In other words he will do the work for a cheaper rate if he is paid cash under the table. "I pay cash for a lot of my supplies, and I can pass these savings on to the city of Auckland if they also want to do a 'cashie'."
It's this sort of attitude that many believe is necessary if we are ever going to see a Rugby World Cup venue completed in time.
"As usual we have left it so late that we need to look to alternative ways of keeping costs down and getting the job done," says Tim Redcliff, a lawyer who was eating a sandwich and walking through Victoria Park around lunchtime last Tuesday.
Swede also believes that he has a design of his own, and that by avoiding unnecessary middlemen like expensive architects, and by keeping health and safety inhouse, he should be able to complete the project for a fraction of the cost.
Swede's design includes covering the cargo shed area with a weatherproof perspex dome. Much of the perspex will come from Taiwan but the bulk of it will be leftover bits from conservatory jobs he did in Onehunga in the mid- to late 90s.
Huge extractor fans that literally fell off the back of a truck on their way to a job at the Ellerslie Events Centre will ensure that even the opening ceremony fireworks display can take place indoors without the risk of people being overcome by smoke and carcinogenic gases.
But how about watching the games themselves? Rather than erecting huge and expensive "big screens", Swede suggests attracting TV appliance stores like Noel Leeming and Bond & Bond to set up in the area, allowing the fans to watch all the rugby action on a selection of TV sets in their display windows.
"It is win-win," says Swede.
One of the other unique things about the development is that thousands of households would have already contributed to the construction of the venue because of shortcuts that Swede has taken when building their homes or extending their decks.
Swede didn't wish to comment on the allegations that he had cut corners when doing any work on Auckland houses, but from his second-hand lumber company in Mt Roskill, he said: "Other than a couple of incidents involving electricity, safety has never really been compromised. I have never built a deck for anybody that I wouldn't be prepared to stand on myself."
Off the record, Swede told me he once used the bricks from a chimney to build a path out to the gate and the owners were none the wiser. He also said he was having an affair with a city council clerk who works in the department that signs off building consents.
Swede is no stranger to consumer awareness TV shows like Target and Consumer Watch. The producer of Target claims his workmanship was the worst he had have ever seen, and his questionable behaviour in the master bedroom of one home was so unusual that "we could have made three 13-part series based on Gary Swede alone".
Unfortunately, none of this footage ever got to air as the home and all the hidden cameras blew up while Swede was rewiring a gas oven.
It is difficult to say what will eventuate on the waterfront but if Swede is involved it is bound to come in slightly cheaper. Is it time for Auckland to do a "cashie"?